| | |
| --- | --- |
| Writer : | Paritosh Painter |
| Director : | Paritosh Painter |
| Cast : | Balvinder Singh Suri, Barkha Bisht, Delnaaz Irani, Jayesh Thakkar, Nasir Khan, Paritosh Painter |

SEE NO EVIL, HEAR NO EVIL, SPEAK NO EVIL, DO NO EVIL
---
The blind girl couldn`t see it ; The dumb guy couldn`t say it ;. And the deaf guy couldn`t hear it ;Now they`re all wanted for it.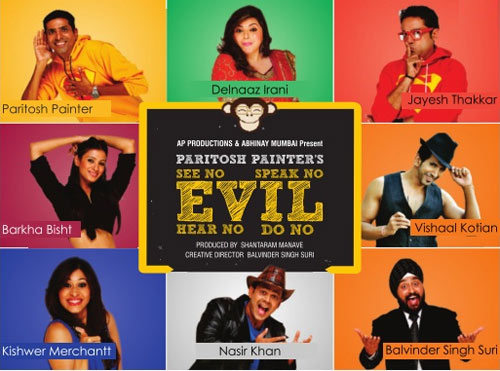 A man is murdered. Three people witness it. A blind girl who hears the killer, a deaf guy who sees him and dumb guy who hears him. The police don`t think they`re credible witnesses, but the killers. And the actual killers don`t want to take any chances. The trio must now work together to save themselves from the police and the killers and bring the killers to justice.

Set in a lavish Hotel Golden Sands in Goa owned by the cute & lovable Esha Singhania (Blind - Barkha Bisht Sengupta), but which is managed by her suave, elegant & caring step sister Tanya Singhania (Delnaaz Irani) and her forgetful Business Manager Mr.Singh (Ballu) & the lazy Ms.Rozy (Kishwer Merchant). Business is great and all is well. But as they say everything can`t be rosy forever ; Aditya (Deaf - Paritosh) and Manav (Dumb - Jayesh) check in the hotel and from thereon starts a roller coaster ride of fun, laughter and entertainment.

In between all this a fatal murder plan is being hatched unknown to all our characters and then very well executed in the presence of Esha, Aditya & Manav.

The Police (Ashish Roy) suspect the trio to be the killers; while the actual killers look at them as credible witnesses. The indescribable confusion that follows builds in to a rich complexity of splendid farcical situations and a climax of comic wizardry.

It has a fast, funny, thrilling plot, which makes this rip-roaring comedy easy & enjoyable for the entire family.



---
| | |
| --- | --- |
| | SEE NO EVIL, HEAR NO EVIL, SPEAK NO EVIL, DO NO EVIL Play Schedule(s) |
No upcoming shows.