| | |
| --- | --- |
| Writer : | Aslam Parvez, Ashok Mishra, Vikram Phukan, Anil Deshmukh |
| Director : | Sunil Shanbag |
| Cast : | Shubrajyoti Barat, Gopal Tiwari, Ketki Thatte, Namit Das, Santosh Tiwari, Pia Sukanya, Mansi Multani, Nishi Doshi, Trupti Khamkar, Makarand Deshpande, Shailesh Hejmadi, Bhupinder Shahi, Nandakumar, Gagan Riar, Anushree Shukla, Amit Ojha, Saurabh Nayyar |

STORIES IN A SONG
---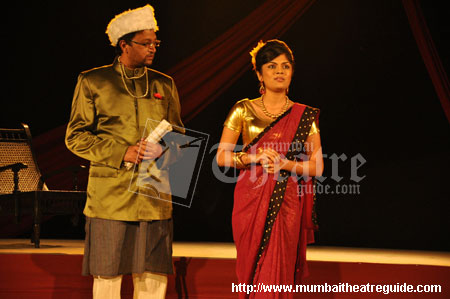 Accounts of music making in India, stories of the struggles and hardships faced by musicians, both real and imaginary, lay the foundation for a collage of dramatized episodes that blend theatre, music and literature. Several forms of theatre in India make abundant use of music. STORIES IN A SONG with the aid of theatre tells stories of musical forms such as kajri, thumri, dadra, khayal, remixes and more.

The Programme:

Mahatma Gandhi and the Tawaif Sabha narrates a page from history about the interesting encounter between Gandhiji and the tawaifs of Benares.

Chandni Begum is based on Qurrultain Hyder's novel of the same name and details the tribulations faced by a family of traditional folk perfomers in Lucknow struggling to keep up with the changing times of the music scene.

Bahadur Ladki, (The Courageous Damsel) is a popular piece of work credited to nautanki legend Gulab Bai and tells the story of a feisty young girl and an English officer in the colonial times.

Hindustani Airs is based on the fascinating encounters between English memsahibs and Indian "nautch" performers, charged with all the problems and nuances inevitable in such a cultural exchange.

Whose music is it? Is a question we ask each time we like a song. This performance traces the journey of a song through the various behind the scene stages, before it reaches its audience.

Kajri Akhada, as the name suggests is based on the times when akhadas would vie with each other at kajri competitions, to establish their supremacy in the art of kajri singing and writing.

Sufi Basant is a fable-like tale that delves into an encounter between Amir Khusrau and his pir, Hazrat Nizammudin Aulia, set against the backdrop of the colourful festival of Basant.

The Bengalee Babu is the story of Dave Carson, a blackface minstrel who arrived in India in the 1860s and became a very successful performer who peddled in Indian stereotypes for local audiences in Bombay, Calcutta and beyond.