| | |
| --- | --- |
| Writer : | Kenneth Grahame |
| Director : | Vikash Khurana |
| Cast : | Onkar Ghare, Amol Wakhare, Anamika Sawarkar, Sonal Trivedi, Pramod Naidu, Vikash Khurana |

THE WIND IN THE WILLOWS
---
Stagecraft Theatre, Nagpur brings the 1908 children's classic to the stage in its production of THE WIND IN THE WILLOWS. The play closely mirrors the book by Kenneth Grahame, as it portrays the adventures of its five beloved animal characters - Rat, Mole, Toad, Otter and Badger. Interweaving dialogue, mime and music with Kenneth Grahame's narrative, the play attempts to recreate this delightfully timeless, charming story for today's audiences.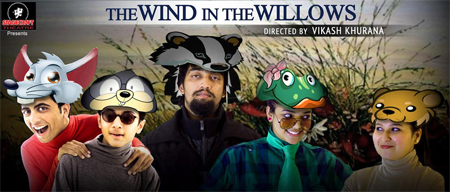 With the arrival of spring, the good-natured Mole flees his underground home and meets Ratty, a water rat who invites him to live with him in his home on the river bank. Mole becomes friends with Ratty, Otter, Badger and Toad. When the rich, jovial and slightly conceited Toad wreaks havoc with his latest motorcar fad, the animals decide to teach him a lesson. Eventually, Toad's home is taken over by weasels, stoats and ferrets from the Wild Wood. The five friends team up to drive away the intruders and reclaim Toad Hall.

With its blend of morality, adventure and camaraderie, the story is as relatable today as it has ever been. The play offers a welcome respite from super-fast, hyper-connected, uber-technological city life. It takes audiences back to a time of leisure, wonder and wanderlust in simple pleasures and pastoral joie de vivre.







| | |
| --- | --- |
| | THE WIND IN THE WILLOWS Play Schedule(s) |
No upcoming shows.