| | |
| --- | --- |
| Writer : | Chetan Bhagat |
| Director : | Sunil Vishnu K |
| Cast : | Naveen Richard / Sudharsan Krishnan, YudhishthirRana / Bhargav Ramakrishnan, AvinashRajendran / Naveen Polisetty,Jimmy Xavier (narrator) / Vaisakh Shankar, MamtaBisht/ Amruthavarshini, AnandNagarker, ParthasarathyDevarajan, Ganesh Ramesh |

Five Point Someone
---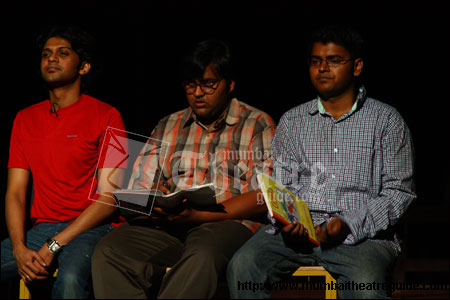 The play is based on Chetan Bhagat's novel Five Point Someone.

A story about three friends in IIT who are unable to cope.

Three hostel mates - Alok, Hari and Ryan get off to a bad start in IIT - they screw up the first class quiz. And while they try to make amends, things only get worse. It takes them a while to realize: If you try and screw with the IIT system, it comes back to double screw you. Before they know it, they are at the lowest echelons of IIT society.

They have a five-point-something GPA out of ten, ranking near the end of their class. This GPA is a tattoo that will remain with them, and come in the way of anything else that matters - their friendship, their future, their love life. While the world expects IITians to conquer the world, these guys are struggling to survive.

Will they make it? Do underperformers have a right to live? Can they show that they are not just a five-point-something but a five-point-someone?





---
| | |
| --- | --- |
| | Five Point Someone Play Schedule(s) |
No upcoming shows.