| | |
| --- | --- |
| Director : | Vikranth Pawar |
| Cast : | Mandira Bedi, Samir Soni. |

ANYTHING BUT, LOVE
---
Meet Anish and Seema.

Anish is just like any other man, hopelessly insecure, occasionally funny, conspicuously jealous, supposedly logical, thinks black and white, believes that women make bad drivers, is unable to come to terms with growing older, still thinks everything is not lost.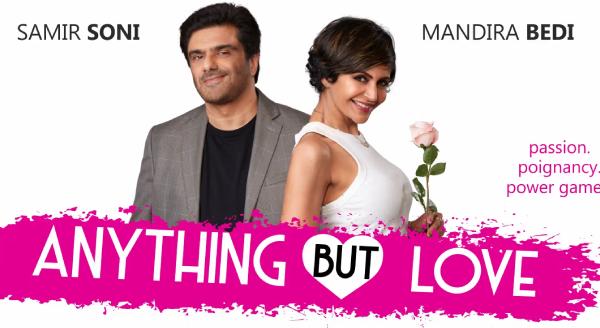 And Seema is like any other woman, hopelessly optimistic, vaguely focused, compulsively emotional, supposedly more mature, thinks white and black, believes that men make bad lovers, is unable to come to terms with growing older, and still thinks better days are yet to come.

One fine day, five long years after their divorce, Anish and Seema bump into
each other in a restaurant. The play looks at this estranged couple's story after the fated meeting in the restaurant.

Does life give them a second chance? Do they conform? Between gay psychiatrists and second spouses will they choose to be with each other? Or will they let bygones be bygones? "ANYTHING BUT LOVE" is supposed to be laced with humour that further blends with a stilling poignancy to take its audience on a journey that they are not likely to forget.



---
| | |
| --- | --- |
| | ANYTHING BUT, LOVE Play Schedule(s) |
No upcoming shows.