| | |
| --- | --- |
| Writer : | Trishla Patel, Shashank VishnuDutt |
| Director : | Trishla Patel |
| Cast : | Karan Desai, Gillian Pinto, Mallika Singh, Anchal Poddar, Nikhil Desai, Prashant Amlani, Hitesh Malukani, Kabeer Khosla and Vaasil Khan |

GROWING UP
---
'Growing Up' is a story about a group of children - Sonia, Isha, Vivi and Nikhil on their exciting journey through Puberty. They all are going through various physical and emotional changes and are confused. The 'Growing up'' book can help ease their confusion, but the evil frog has cursed Kuku the Clown, who is the hero of the Growing up book and thus all pages of the book have become blank.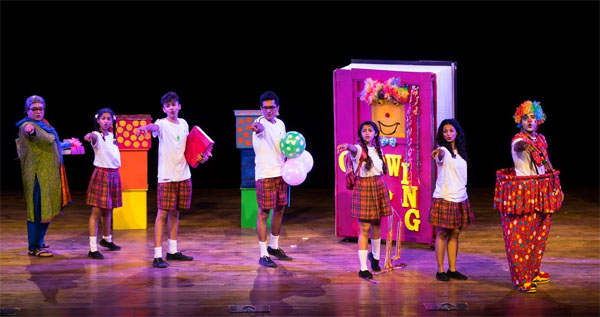 A frantic search for the Clown, a strange common dream, Mr. Mistry - their weird teacher, Cool Dadi, Psycho Didi and the case of the missing dog all add to the confusion and fun during this journey down the Puberty lane.

As the characters wrestle with the question, ''Am I normal?'' they learn to cope with the changes affecting their bodies and minds. The play also beautifully handles the okay and not okay touch.

---
| | |
| --- | --- |
| | GROWING UP Play Schedule(s) |
No upcoming shows.