| | |
| --- | --- |
| Writer : | Paritossh Painter |
| Director : | Paritossh Painter |
| Cast : | Ashiesh Roy, Nigaar Z. Khan, Paritossh Painter, Ravi Gosain, Balwinder Singh Suri, Jayesh Thakkar, Bhairavi Goswami |

See No Evil, Hear No Evil, Speak No Evil - Plot 2
---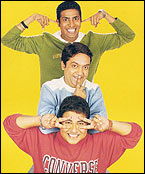 SEE NO EVIL, HEAR NO EVIL, SPEAK NO EVIL – PLOT 2 is the sequel of Ideas The Entertainment Company's earlier super hit play SEE NO EVIL, HEAR NO EVIL, SPEAK NO EVIL, which ran to full houses all over India and the Middle East for over a year.

Shreedhar Agarkar (Ashiesh Roy), Aditya Tendulkar (Paritossh Painter) and Manav Kambli (Jayesh Thakkar) are unsuccessful inventers. All their inventions have turned out to be howlarious disasters – and they've even been rendered temporarily deaf, dumb and blind as a result of one of their scientific experiments gone haywire.

One top of that, owing to their luxurious lifestyles, the three bachelors have managed to run up unpaid bills to the tune of several lakhs!

Out of the blue, the simpleton Shreedhar is informed that he has inherited a large fortune left by a distant relative. And in passing the hyper active Advocate Singh (Balwinder Singh Suri) mentions that in the event of Shreedhar Agarkar's death, the entire fortune will pass on to his long lost cousin brother Rahul.

This gives the incorrigible Aditya an idea that Shreedhar should fake his own death and come back as his absconding cousin Rahul to claim the inheritance – thus avoiding payment to their accumulated debt.

But to put a spanner in their works, along comes eternal romantic Manav's old flame Mallika – who informs them that she's been married to Shreedhar's cousin Rahul!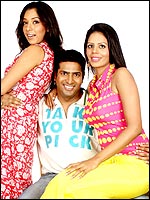 And while the three friends are at their wits end trying to get rid another potential inheritor, their cunning lab assistant Rosy plants her own fiancée – a struggling actor Aman Oberoi as the "real" Rahul!

From here on begins a roller-coaster ride of crazy situations – that become so convulated and confusing, that it seems impossible that Shree Adi Manav would ever be able to get out of their own web of deceit…But, the three manage to hold on to their nerves as also their sanity, and emerge victorious in the end – with a deliciously served out twist in the tale!

SEE NO EVIL, HEAR NO EVIL, SPEAK NO EVIL – PLOT 2 boasts of a fine ensemble cast of popular television, film and theatre actors, whose energetic performance and comic timing promise to enthrall and regale the audience all through the 90 minutes of playing time. And long thereafter…

Especially worth watching is the excellent rapport and superb chemistry between the three leading men Paritossh Painter, Jayesh Thakkar and Ashiesh Roy as the deaf, dumb and blind scientists.



---
| | |
| --- | --- |
| | See No Evil, Hear No Evil, Speak No Evil - Plot 2 Play Schedule(s) |
No upcoming shows.