| | |
| --- | --- |
| Director : | Sapan Saran |
| Cast : | Shilpa Sane, Sunil Shanbag, Chinmay Kelkar, Shruti Mishra |

THE THING IS ...
---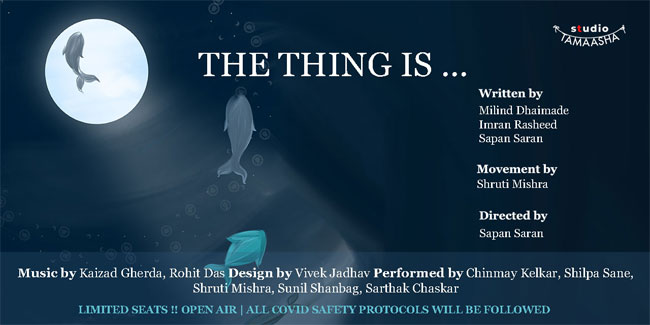 The thing is ... I wish I could

A wish "sometimes implies a longing, especially for the unattainable ..."

And what could be a more apt metaphor for 2020? Wishing, hoping.

Three writers explore the idea of wishing through the worlds of three unusual characters. In Sifar an innocent question from a child sends a director on a journey to discover what he really wishes to do with his theatre. In Lekhak Ki Begum the cheerful housewife nurtures fiercely a desire to enter the intellectual world inhabited by her husband. In the Wishful Life of Vishu we see a loser, embittered against the deep injustice of a cynical class divide. Interweaving these three pieces is Bindu, a choreographed piece that explores primeval human longings that are resolute and hopeful.



---
| | |
| --- | --- |
| | THE THING IS ... Play Schedule(s) |
No upcoming shows.