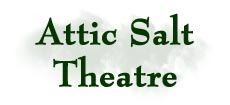 ---
This theatre group derives its credo from doing theatre that exploits the potential of humour in its varying forms. It collaborates with Rachel Productions to put together humorous yet meaningful forms of theatre for various age groups.

The first production of the team was a hilarious mature comedy called FULL OF JOY. This comedy lampooned the various facets of life. It was written & directed by Joy Fernandes, with music by Raju Singh and has completed 13 shows in Mumbai till date. The play's cast consisted acknowledged actors such as Suhasini Mulay, Howard Rosemeyer, Atul Parchure, Mona Ambegaonkar, Divya Jagdale & Joy Fernandes himself.

The main people involved with Attic Salt Theatre are Joy Fernandes and Mona Ambegaonkar while those involved with Rachel Productions are Raju Singh and Sherly Singh. The profiles of these artistes are available on our site in the Theatre Artistes' section.

Their second play titled NORWAY.TODAY written by Igor Bauresima in German and translated by Marlene Norst into English enfolds as a dark comedy. The premise of the play takes off from the seduction of suicide as two young people partner with each other to kill themselves over the Internet. Quasar Thakore Padamsee plays the character of August while Khushboo Hitkari and Fauzeh Jalali play Julie from one show to the next.