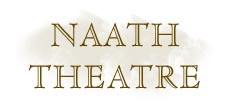 ---
Naath Theatre, earlier known as Kreators was established in 1992 by Kamlesh Mota & Babul Bhavsar. This theatre group's objective has been to present plays, which can provide a message to the masses while entertaining them.

Naath Theatre is one of the few production houses in Mumbai, which regularly produces plays in Hindi as well as Gujarati. It is also very proud to associate itself with one of Mumbai's premier institutions of art-the Sangeet Kala Kendra.

The Sangeet Kala Kendra was founded by the well-known Indian industrialist, the late Shree Aditya Vikram Birla. Naath Theatre has been instrumental in designing many productions for the Sangeet Kala Kendra, which have been staged all over India.

Naath Theatre's plays have also been staged in the UAE and East Africa. In the near future, plans have been made to stage plays in other parts of the world such as the U.S.A., Canada, the U.K. and Europe.

One of its most prestigious productions so far has been SARASWATI CHANDRA, a play which won five awards by the Transmedia Software Private Limited in the year 2003-04'.

On an official note, Naath Theatre is a registered partnership firm and seems to have achieved a high respect amongst theatergoers not only in Mumbai but elsewhere in India too.

Major Productions:

English
THREE MUSKETEERS STRIKE.

Gujarati
AME JIVYE BEFAAM
MANMOJILA
PREM GHERAIYA
GURU DEVO BHAVA
OLKHAAN
KAACHNA SAMBANDH
SARASWATI CHANDRA

Hindi
AADHI RAAT KE BAAD
APNA TO BHAI AAISA
ANKUSH
SANSAAR
MUQADMAA
PARIVAAR
HUM NEEL GAGAN KE PANCH

Artistic Directors: Kamlesh Mota & Babul Bhavsar.