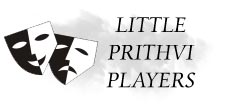 ---
Fourteen years ago when Prithvi Theatre began "Summertime at Prithvi Theatre", the team knew that its 'devious' aim was clearly to develop a better audience for a better tomorrow! Hence the participants of these workshops got membership cards which enabled them to see any number of children's shows free of charge for an entire year. Little did the team envisage that they were on their way to create a vibrant children's theatre…One thing just led to another and very soon three productions were done with young people as actors. Thus, Little Prithvi Players was born. But having young people as actors has its own set of restrictions, which a producer can never quite be happy with!

Taking children's theatre seriously enough, Little Prithvi Players presented 3 children's theatre festivals - one of which celebrated 10 years of GRIPS Theatre in India (introduced and masterminded by Dr. Mohan Agashe). The GRIPS theatre form was created by Volker Ludwig in Berlin in the sixties as a response to the traditional fairytale, happy ending, moralising theatre that existed for children at the time. It dealt with issues that concerned young people and its aim was to expose children to the full experience that theatre is capable of giving. The GRIPS style of play has a live band which plays original rock or pop music in all its productions, a magical ingredient to captivate any audience!

Ramu Ramanathan participated in one of Volker's writers workshops - which resulted in the hugely successful Little Prithvi Players' production of THE BOY WHO STOPPED SMILING. This play broke most records of English children's theatre in India by crossing over 130 shows and by touring extensively across the country.

Soon after, Little Prithvi Players opened another original play titled, TAKADOOM TAKADISH, which unfortunately had a premature demise due to unforeseen circumstances.

However Little Prithvi Players didn't despair long. Its latest GRIPS production titled MEDHA & ZOOMBISH has once agin successfully delighted both children and adults.

The synopsis of MEDHA & ZOOMBISH is available on our website. The play is a must see for all those wanting to savour the experience of a wholesome play.