| | |
| --- | --- |
| Writer : | Imtiyaz Patel |
| Director : | Dharmesh Vyas |
| Cast : | Dharmesh Vyas, Chitra Vyas, Surbhi Zaveri, Rajendra Butala. |

AARADHNA
---
Produced by Shivam Creations and posed as a "social family entertainer", AARADHNA explores a mother's (Chitra Vyas) relationship with her two daughters (Surbhi Zaveri and Namrata Parikh).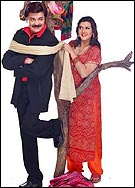 The mother is a widow who has brought up her two daughters with a lot of love and affection and the daughters in their turn share a very close relationship with her. Typically, the mother nurtures dreams of seeing her daughters married off into good families.

Such a good family arrives in the person of Aatish (Dharmesh Vyas) who needless to say is the hero of the play. However this Gujarati stage demi-god settles for the younger daughter (Namrata Parikh) instead of the older one (Surbhi Zaveri). After all, fair looking gujju males with stawberry-pink complexions are akin to premium real estate and hence all their demands translate into the proposition of sound investment!



But in case if you are worried at this juncture about either of the daughters, don't be. There are no emotional outbursts or avenging characters here. Things proceed smoothly enough till the younger daughter does not turn up for the wedding. Mind you, she does not have a boyfriend and nor is she unhappy about her planned wedding.

In the absence of the younger one, enters good old elder sister. As the elder one takes centrestage, you may wonder what happened to the younger one...but I for one am not going to ruin your suspense, although this one is a "social family entertainer", not a "social suspense family entertainer"!




---
| | |
| --- | --- |
| | AARADHNA Play Schedule(s) |
No upcoming shows.