| | |
| --- | --- |
| Writer : | Sidharth Raderia |
| Director : | Vipul Mehta |
| Cast : | Sharman Joshi, Shekhar Shukal, Kiran Bhatt, Jayesh Barbhaya, Aarya Rawal, Amit Bhatt, Dipali Mehta, Nilesh & others |

Ame Lai Gaya Tame Rahi Gaya
---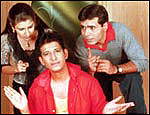 You have seen 3-D films but this one is a 4-D drama where Film Star Sharman Joshi plays 4- different characters at the same time, in the same laugh riot drama. An 55 year old Amar Ajmera (Sharman Joshi) is a millionaire who finds out that his young wife Meera (Arya Rawal) is having a clandestine affair with his P. A. Kapil Ganatra (Jayesh Barbhaya)

But the lovers knock him down and presuming he is dead, transport his corpse away.

Now the advocate Manu Mankodi (Shekhar Shukla) arrives with the will of late Mr.Ajmera- But to utter surprise it is revealed that he has made three different wills and none are signed. The other two suitors also arrive. One Mr.Ajmera's first wife Suman (Nimisha Vakharia) and a daughter Tanman (Deepali Mehta) and second his uncle Jatashankar Joshi (Kiran Bhatt)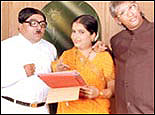 From here on starts the hillarious roller coster ride of presenting a fake Mr.Ajmera to get his millions-

Three look alikes are trained to impersonate as Ajmera. One a truck diver, second an Insurance Agent and third an illiterate village boy..

Now hold your breath ! The original Ajmera too arrives... need we divulge more ?



| | |
| --- | --- |
| | Ame Lai Gaya Tame Rahi Gaya Play Schedule(s) |
No upcoming shows.