| | |
| --- | --- |
| Director : | V. K. Sharma |
| Cast : | Darpan Mishra, Kajli Sharma, Abir Abrar, Bharat Jha, Vijay Singh, Sonu Anand, Amit Roshan & Mithilesh |

Sone Ki Machhali
---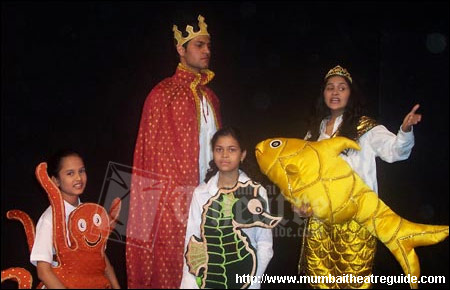 Based on a poem by Alexander Pushkin, it's a unique adaptation following the concept of a play within a play and a lot of interaction with the audience. In fact, the casting of the play itself is done in consultation with the audience. The story runs like this: An old man catches a golden fish who offers to give him anything provided the old man spares her life. Content that he is with whatever little he has, he doesn't ask for anything in return! However, his wife, the old woman is very angry with him for this stupidity. She begins making demands from the Golden Fish, right from new fishing net, to a new house, to becoming a high-status woman, and then the queen of the earth. Finally when she desires to control the celestial bodies including the moon and the Sun, the Golden Fish decides to teach her a lesson that too much greed is too bad. Hence, the Fish takes away that entire she had given her… and the old man and the old woman find themselves in the same old dilapidated hut.

This is merely the story on which the play is built around. The great fun is that the audience gets lots of opportunities to sing with the actors, sometimes even give suggestions on what to do and how to go about certain ideas.



---
| | |
| --- | --- |
| | Sone Ki Machhali Play Schedule(s) |
No upcoming shows.