| | |
| --- | --- |
| Director : | Yashraj Jadhav |
| Cast : | Yashraj Jadhav and Mark Parakh |

ASMANJAS BABU KI ATMAKATHA
---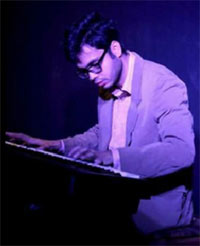 Every person has a story... Every place has a fable...

In a gloomy bar at a popular gymkhana in a metropolis, a lonely pianist plays soulful music. His presence is unnoticed amidst the clinking of the glasses, the clutter of the cutlery, the motiveless chit-chat and the hopeless flirtations. As the night deepens the patrons disperse and the pianist stays embracing the gloom. He is the place, as if he always existed there, eternally.

He tells the story of his life - a misfit, an outcast, a recluse. He talks about the loves of his life. He talks about his family, his relationships, his joys, his sorrows, his angst, and the tragedy that we all suffer.

This is the story of Asamanjas Babu.



---
| | |
| --- | --- |
| | ASMANJAS BABU KI ATMAKATHA Play Schedule(s) |
No upcoming shows.