| | |
| --- | --- |
| Director : | Niresh Kumar |
| Cast : | Rakesh Singh, Sagar Sharma, Rahil Bhardwaj, Rana Kamal, Akash Srivastav, Vikas Salgotra, Rahul K. Pathak, Jivesh Brar, Anuj Khurana, Madhumita Barik, Arun Kumar and Khushi Rajpoot |

KNOWN DRINKERS
---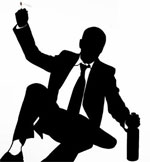 A comic satire and an emotional journey of people who must introspect. It is a reality check that leads to question life that has become fast and competitive.

Where are we? What is our approach towards ourselves and our government? Are we well informed? A few questions that are worth thinking about starting with ourselves.



---
| | |
| --- | --- |
| | KNOWN DRINKERS Play Schedule(s) |
No upcoming shows.