| | |
| --- | --- |
| Writer : | Harin Mehta |
| Cast : | Sudha Chandran, Rohini Hattangady, Babul Bhavsar, Eva & others. |

Kohara
---

The story of KOHARA enfolds in scenic Kullu of Himachal Pradesh. Justice Krishnakant Singhania dies in a fatal car accident while his daughter and traveling companion Shivani is left handicapped. His young and beautiful second wife, Roma and his daughter are now the only people left in the family's sprawling villa.

Dr. Kapoor, a family friend takes good care of Shivani and appoints a pleasant and funny nurse, Tanuja to look after her. Most characters in this play are essayed in the mode of pulp detective fiction and it is no wonder that Tanuja besides being a nurse is fond of reading horror stories and playing detective.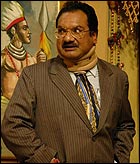 When Dr. Kapoor has to leave Kullu to attend to work, Dr. Malhotra starts taking care of Shivani. Before long strange things begin to happen in and around the villa. Someone opens gun fire in the house, a person in disguise keeps a constant watch over the house, a floating dead body is found…

So if you're in the mood for some suspense, hair-raising or not, you can check out this play. The other added production values are Rohini Hattangady as Nurse Tanuja, rest of the cast- known tele-serial faces. Does that help?