| | |
| --- | --- |
| Writer : | Neil Simon |
| Director : | Harish Patel |
| Cast : | Gaurav Ghatnekar, Akash Dhar, Devraj Setya, Pratik Kothari, Kripall Sengupta, Dilshad Patel and Pooja Pradhan |

MR. & MR.
---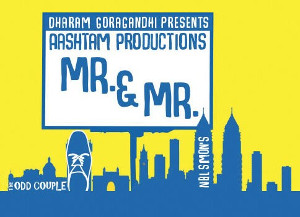 Gaurav Ghatnekar, a neurotic perfectionist is thrown out of his house by his wife - Shruti. As Gaurav has nowhere to go, his childhood friend Aakash Dhar takes pity and asks him to move in. An honest news content writer, Gaurav fails to understand Aakash's careless spending, excessive gambling, a poorly kept house filled with spoiled food. Aakash has put his sports writing on hold and is concentrating on a biographical novel. Aakash sweeps his problems under his dusty rug and enjoys life.

Gaurav, however, seems utterly incapable of enjoying anything and only finds purpose in pointing out his own and other people's mistakes. Even when he tries to do so in a gentle and constructive way, his corrections and suggestions prove extremely annoying to those around him. Aakash, feels compelled to throw him out after only a brief time together, though he quickly realises that Gaurav has in fact, influenced him in a positive way.

Adapted from Neil Simon's THE ODD COUPLE by Ashna Arya.


---
| | |
| --- | --- |
| | MR. & MR. Play Schedule(s) |
No upcoming shows.