| | |
| --- | --- |
| Writer : | Fritz Karinthy |
| Director : | Avneesh Mishra |
| Cast : | Shashi Bhushan Chaturvedi, Geet Sagar, Sabyasachi Misra, Errol Rodrigues, Kanak Khanna, Vandana Bhushan, Roshan Shetty, Varun Kulkarni, Kush Jobanputra |

RANGSHILA THEATRE GROUP'S REFUND
---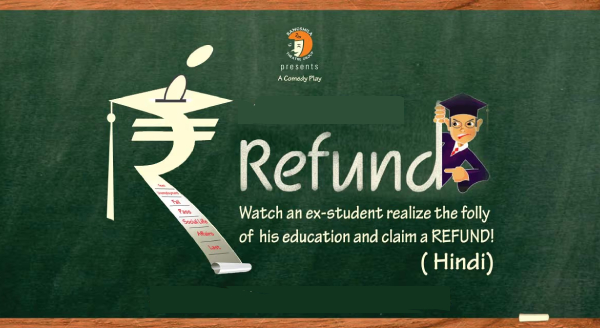 Refund takes up a very common situation of an ordinary unsuccessful middle-aged man; who instead of blaming himself for his failures blames the school and his teachers where he got his primary and secondary education.

The play takes up the incredulous situation of this middle-aged man walking up to his old school Principal and openly admitting that he is a failure in life because his teachers have not taught him well and so the school and its teachers should take the blame for it. And not just that, he demands that the school give him a 'Refund' of his entire school fees along with interest.

The play takes an interesting turn when he demands that there be a re-examination for him for all his subjects, where he is determined to 'fail' his exam and the teachers are hell-bent on 'passing' him in the exams; when normally it is the other way around.

This is an out-and-out Comedy play for all age groups and all classes of people.


---
| | |
| --- | --- |
| | RANGSHILA THEATRE GROUP'S REFUND Play Schedule(s) |
No upcoming shows.