| | |
| --- | --- |
| Writer : | Sushama Deshpande |
| Director : | Sushama Deshpande |

SANGEET BAAYA DAAR UGADH
---
SANGEET BAAYA DAAR UGADH is a play based on poetry (Abhang) by women saints from the 13th to the 18th century. The poetry explores their relationship with God Viththal. They derived courage to face life through this relationship; it was their source of happiness; a means to understand themselves.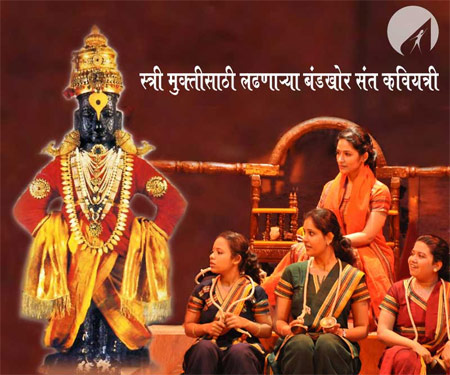 Socially speaking, women started taking about their personal rights since the 18th century. But these women saints had an expression of their own since the 13th century. They did not have an equal social status back then. Their lives were mere Bhogvastu (objects of physical pleasure). In the 13th century, Muktabai, youngest sister of Nivrutti Dnyandev and Sopan was able to find her expression with Nivrutti's support. She discovered her path of life, which was not what the society expected her to do.

Soyarabai, a woman from the Dalit Samaj (lower castes), questions why a woman should become an untouchable during her menstrual cycle ? It is that, which makes her a creator. She believed Viththal to be her close friend, and through her poetry share her thoughts with him.

Bahina is from 17th century. Saint Tukaram was her Guru. Her husband never treated her well but she respected him as required of her. She expresses her desire to dance notwithstanding the norms of society.

Vithabai, in 18th century, said, her, husband may use her body, but her soul is intact. She gets the strength through her Guru and Viththal.

Godamai, 19th century, sees herself to be free (Mukta).

Kanhopatra,a daughter of Nayakin (prostitute), appeals to Viththal to protect her from the King's soldiers who have come to take her away. She sleeps on Viththal's patio, and remains unharmed.

Nagi is from the family of Saint Namdev. Her in-laws did not believe in Viththal. Not being able to cope with this, she appealed to the God, asking him to take her away from a place where she can't meet him. Without Him, she is unable to go on living her life.

Janabai use to work at Saint Namdev's house. She used to help in household work. Viththal was a day-to-day companion for her, with whom she shared the mundane activities of everyday life.

Saint Eknath has written bharud, pinga, zombie, and his Abhangas commented on life. Women saints peek through in his poetry as well.

This poetry was shared with a larger audience by these women during Paayvaaree (a mass cultural event in the state of Maharashtra). For more than 800 years, devotees walk from Alandi to Pandharpur for Darshan of God Viththal. He is indeed the God of the masses in Maharashtra.

The play begins with the folk form Bharavani. Shahir tell us about payvari and invites us to join the vari. In this walk we meet Muktabai, Soyrabai, Bahinabai, Nagi, Kanhopatra, Godabai, Viththal, Janabai. The group walking with them represents contemporary yongesters from different strata of society today. This is a journey to meet Viththal. They sing their poetry on this walk. They withstand social slanders flung towards them through the strength of their relation with Viththal.

Viththal is their medium through which these women explore themselves. He is their parent, their friend. He is their whole culture, their expression. They are one with him. They feel content when they find him.

This is perhaps the oldest existing expression of womanhood. SANGEET BAAYA DAAR UGADH is an effort to understand the relevance of such expression in today's time.