Indu Kale Va Sarla Bhole
---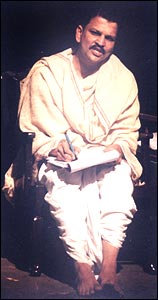 The play is based on a Marathi novel by the same name, which was written in 1934 by Vaman Malhar Joshi. According to the director of the play, the novel is timeless with regards to its philosophical premise. This premise stems out from the inherent shortcomings and limitations of all mortals who however possess the wherewithal to overcome and transcend these.

Just as the novel takes the form of an exchange of letter so does its stage presentation. Indu Kale and Sarla Bhole are characters who live during the period between 1914-1934. But as with stories of a usual nature, the stories of the two characters have no beginning or and end. Their life marks the continuum of human endeavour and the content of their letters takes in the entire social scope of the period in which they live.

The production being sensitive to the wider social, cultural and political relevance of the period as marked by the characters' letters to each other makes use of props, costumes, lighting and music in a discerning manner. The language the characters 'speak' is not the spoken language of the period. The actors as such read out the written text and ensure that spontaneity is not sacrificed at the altar of 'easy to resort to histrionics'.



---
| | |
| --- | --- |
| | Indu Kale Va Sarla Bhole Play Schedule(s) |
No upcoming shows.