Direction : Imran Rasheed
Cast : Abir Abrar, Imran Rasheed, Shivani Tanksale, Dilshad Edibam


Bade Miyan Deewane play review
---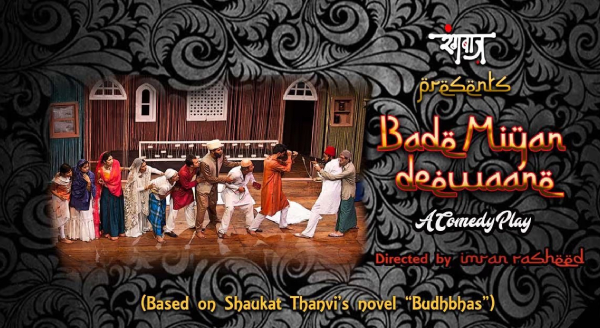 'Never judge a book by its movie', declared the bookstore Crossword once. Some people found sense in it. Others felt it wasn't quite true. Why spend a month reading a book when you have the faster option of watching a film or a play based on the book? Well, for the busybees this play might be a quick fix. It takes them closer to the original novel, but not close enough.

Adaptations are no doubt a daunting task. One needs to take in completely the original form of writing, make sense out of it for one's self, and then build an entirely new piece in another form, and all this while still keeping in line with the original. But the enthusiasts of Rangbaaz Theatre don't mind such hard work at all.

BADE MIYAN DEEWANE is their first independent production in Hindustani. Their previous productions are MUNSHIJI KI GUDGUDIYAAN in collaboration with Ekjute,and NAMAK MIRCH in collaboration with AKVarious Productions. Comedy seems to be their forte, and this time Shauqat Thanvi scores a point over Premchand. The play is based on his novel 'Budbhas'.

Thanvi wrote in Urdu. He was born in India and died in Pakistan and in his travails, he managed to find the lighter vein. His satires raised a lot of hue and cry; the political ones especially. 'Budbhas' on the other hand has a very local flavour and here the worries of the masses are overtaken by the worries about lasses. Top it with the common yet mysterious age factor and the hue intensifies adding more colour. Stroke it with greed, jealousy and the all-consuming phenomenon of love, and you are in for a feast of laughter over an old gentleman who has a roving eye. Already flanked by two tawaifs who claim to love him, he falls in love with a girl his daughter's age. The girl is secretly having an affair with his son.

But BADE MIYAN DEEWANE would have had a lasting impact had it foreseen the bigger picture that Thanvi tries to show. In a comedy of errors, humour arises out of the error itself. One should not make it appear forced. During the course of the play it is evident that Thanvi has a sheer talent for humour. The play however loses the subtletly by the over the top portrayal of the octogenarian protagonist Mir Sahab, played by Imran Rasheed. His character devoid of the 'shakes' would have just been as funny. This shortcoming was brilliantly tackled by Akarsh Khurana though. He eases into the skin of the character Sheikh Sahab and he plays his part so perfectly that one would think he is irreplaceable. The other actors manage the comedy fairly well too.

Imran Rasheed as director is far more successful. His experience in theatre speaks through his placement of scenes, and the way in which his actors play their characters. The timing of some of the scenes and the timing of the actors in those scenes make you put your hands together for this man. He surely knows how to make his folks laugh, be it through slapstick humour or intelligently timed sarcasm.

Usage of live music is a boon and Gopal Tiwari's feet tapping tunes do set the atmosphere for what is to unfold. A constant hum of Ishq, Ishq... during transitions underlines the tone of the play every time Megha Sriram sings it. The play has four major locations and the set design is optimal ensuring minimal lapse of time between change in locations. Rasheed has carried this all of with ease and when you meet him after the show, he modestly speaks of an urge to do more for the sake of Hindi theatre. Now that's something.

*The writer is a young theatre and poetry enthusiast. He has actively participated in various theatre productions and is interested in film too. His short film 'Bombay Joker' was selected to be screened at the 2009 MAMI festival.