Schedule
No upcoming shows.
Kautubh Trivedi and Sanjay Goradia have collaborated on many productions which at times stand out for their different themes among their peers on the Gujarati stage. GARVI GUJRATANE RANG RAKHYO is one such idea. The story revolves around a loving, protective father Rasik Joshi (Paresh Bhatt) and his daughter Sargam (Dhruma Mehta). Sargam as her name suggests, is an epitome of melody and rhythm and she is well known to set the stage on fire with her dances. She has now made it to the semi final of a Dance Reality Show and is gaining fame and winning hearts.

Sargam is also in love with Rohan (Vikram Mehta) and wants to get married soon after she has won the finale. This sets off butterflies in her father's tummy because he is unable to accept the inevitable to the extent that he asks the couple to elope and get married because he wouldn't have the courage enough to bear a traditional 'bidaai'.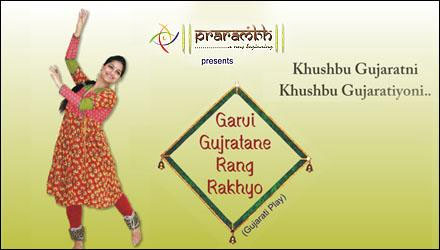 Things take a sad turn when Sargam has a blackout one day while performing. Soon, she discovers that she is suffering from Cornea cancer and will never be able to see again. Rohan abandons her. Sargam is shattered. Thanks to her father's unrelenting motivation, Sargam gathers courage and decides to go on with the show. The doctors are able to trace a foreign surgeon who is a specialist in such cancer cases.

The premise is promising. But then there are sporadic scenes that don't do anything for the play but are only intended to make the audiences laugh. There are characters like the irritating neighbour Dabang (Pranav Tripathi) who always lands up to borrow 'chai' and 'cheeni'. The story loses its focus for long periods in an attempt to make people laugh. Even the laughter lines are not fresh. But the audience predictably loves Dashrath Bankim Ganatra- 'DaBanG' who has good comic timing. There is a hilarious sequence in which Rasik attempts dancing under Dabang's coaching.

The USP of the play is its dance sequences. The dances are well choreographed (Shikar Ahire) and the use of silhouettes is worth mentioning. Though the songs are arranged thematically and are well choreographed, the soul is sometimes missing. The lights (Rohit Chiplunkar) are done well for most dances but they do get a little repetitive.

There are three basic sets (Chel Paresh)- the Reality show backdrop, the house, and the eye hospital. What is refreshing to see is that the production does not resort to the most obvious 'Box set'. The reality show backdrop is good apart from the use of black which solicits unnecessary attention. The house set up is fine and in sync with the socio economic status of the family. The biggest let down is the set of the eye hospital. It doesn't have the appearance that one would associate with an air-conditioned, well maintained hospital.

Vinod Sarvaiya's writing can be poignant. It also has its highs. Some characters are well etched. But there are two critical moments that just don't register. One when Sargam has a blackout and loses her vision. The episode ends before it even starts. Ditto when the episode reoccurs. We must simply accept it has happened as we move on to the next scene without actually believing it. Rohan's (Vikram Mehta) character doesn't seem to add any effective layer to the play. But the actor shows a lot of confidence and presence.

One very important aspect of a production which is almost always overlooked by the audience is the backstage. It is quite a thankless job. But here backstage makes a huge contribution. The agility with which the sets change, deserve a mention.

Performance wise, Shyamal (deaf and blind man) doesn't get a lot of scope but does reasonably well. Atul (Reality show anchor) shows promise and talent. Kesaj and Nayan lend good support to the dances. Ajinkya Sampat (Dr Ajinkya Mehta) doesn't quite impress. Bhavesha Upadhyay (Bharti Joshi) who speaks wrong Hindi could have explored the possibilities of her character a little more.

The heroine, Dhruma Mehta (Sargam) does reasonably well. Her act is convincing and she comes across as quite an accomplished dancer. But it is Paresh Bhatt (Rasik Joshi) who steals the show with his portrayal of a 55+ man from Junagadh. Not only is he convincing in his part but he also hits the bull's eye with the tonal quality of his dialogues. He makes you laugh, he moistens your eyes and he takes you from one emotion to another rather seamlessly. His act deserves an ovation.

Vipul Mehta has given his audience many plays worth remembering. A lot is expected of him when he directs but this time it is not quite the case. There are several moments when the play falters. Again, the duration as it happens with many Gujarati plays, is needlessly long. Though there are some good scenes with neat blockings, and Sargam's emotions work in favour of the play, on the whole GARVI GUJARATAN... doesn't quite leave a mark and disappoints.

Pratik Kothari has a Diploma in Acting from Barry John's acting studio. He has worked with theatre groups like Manoj Shah's Ideas Unlimited and Salim Arif's Essay Communications. He has also acted in films and is currently assistant director on Shyam Benegal's TV Series 'Samvidhan'.