Schedule
No upcoming shows.
Shakespeare's ALL'S WELL THAT ENDS WELL (circa early 17th century), is not only one of his least performed plays, but has also acquired the somewhat circumspect title of being one of his 'problem' plays. Actually, the term, 'problem play' was first used to refer to a form of drama in the 19th century. It was associated with plays that confronted the audience with the social and the moral dilemmas of its characters within a realistic social context. Henrik Ibsen's plays are considered to be a fine example of the 'problem play'. The 19th century critic, FS Boas, who studied early modern drama, extended the term to classify certain plays by Shakespeare that he considered to have features similar to those of Ibsen's. The term caught on and was later more broadly used to define plays that didn't quite fit the altogether neat classification of the comedy or the tragedy.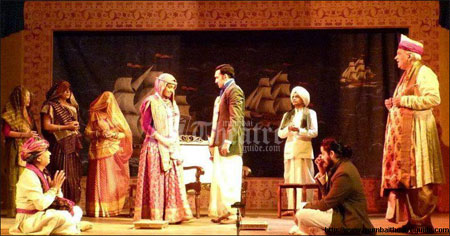 Apparently early on, ALL's WELL THAT ENDS WELL was considered to be a romantic comedy. However, later critics couldn't quite make up their minds about the play's heroine; her intentions were suspect and not so honourable, and they felt it therefore to be a tragedy for the play's hero. The famous 19th century, Shakespearean actress, Ellen Terry, went so far as accusing Helena, the central heroine of the play, to be "really despicable" and a "doormat". But her contemporary and friend, the famous playwright, essayist, critic and drama theorist, George Bernard Shaw exalted Helena to the stature of the 'New Woman' such as Nora of Ibsen's A DOLL'S HOUSE (1879). The 'problem' play therefore makes for an interesting proposition and has the potential to further open possibilities for complex re-interpretations and re-telling in our times.

On this note, one might have wished something dynamic from Mihir Bhuta's Gujarati adaptation of the play, especially since the play is one of the two plays from India that have been commissioned to be presented at the Globe Shakespeare Festival in London this year. But audiences are not going to be disappointed. For Bhuta having preferred to go along with the play's earliest and obvious premise of the romantic comedy, has succeeded in creating a very specific context for his adaptation with all its little details in place. His characters belong to the Gujarati community in India in the 1920s, and the action moves between an imaginary village called Rasoli in Saurashtra, the great megapolis, Mumbai and Rangoon, a coveted trading post in Burma. His adaptation is finely supported by Uday Mazumdar's music, and the Musical might as well amount to one of the best displays of theatre on an otherwise largely impoverished Gujarati stage, overrun by redundant 'comedies'.

Helena is now Heli (this is as Gujarati as it can get) and in her character, played by a pert Manasi Parekh, we find an endearing girl who is very resourceful and quick of mind. Her ploys to make the hero, Bharatram (Chirag Vora) marry her and eventually fall in love with her come across as a determined lover's persistence than anything remotely manipulative. She is always genuine and one might even take her quick wit to be likeable, and a useful quality to possess. Parekh seems to have cultivated her part very carefully, almost methodically to the extent that her expressions and gestures are predictable; she is in anticipation of her cues as someone relatively new to the stage might be (she's bound to be less apprehensive with more shows), but her moment of truth shines as she begins to sing and she beautifully carries out the play on this singular skill, emerging to be the rightful heroine of this Musical.

Archan Trivedi in his roles as the sutradhar (narrartor) and Laffa bhai, is a very able actor, who sets the stage for the proceedings to come. The ensemble is made of established actors, Utkarsh Mazumdar and Meenal Patel, and the younger ones, Chirag Vora, Satchit Puranik, Nishi Doshi and Ajay Jairam. All of them deliver uniformly good performances. Utkarsh Mazumdar is memorable in his grand role as Gokuldas Gandhi, the business tycoon who is Bharatram's maternal uncle and Heli's great benefactor, who delivers Bharatram to her. Ajay Jairam who plays Gokuldas Gandhi's precocious help boy, doubles as a Madari in a scene that underscores director Sunil Shanbag's pivotal role in enlivening each scene and investing it with just the right emotion.

In classic Shanbag style, you get to watch a performance, where everything is just as it should be, and which is voluble in its simple, yet very effective staging. Going by the nature of the adaptation, there aren't any nuances to speak of here, yet Shanbag is sensitive to the smallest detail. The detailing is also observed in Nayantara Kotian's stage design, which again, without resorting to any frills, creates a picturesque backdrop; in the background, the painted scenery changes as per the scene within a pretty and daintily designed rectangular frame. Kotian has taken so much care as to pay attention to the side wings of the stage and the little touch she has given them, made them intrinsically a part of the overall stage design of the stage at Bhavan's auditorium in Girgaum, Chowpatty where the play opened. The period look was further animated by Maxima Basu's costumes.

Quaint and obvious as it is, Arpana theatre company's production of the bard's lesser known play, makes for a delightful evening, accompanied by the live music of Vinod Padge's harmonium, Sada Mulik's dholak and Jayesh Dhargalkar's tabla. It re-asserts the timeless quality of Shakespeare's plays, and their malleability to be adapted in diverse cultures and times. The well turned out Gujarati audience, driven together by their wonderful community spirit of coming together to watch a play, might also like to point out that they can still appreciate a good production when they see one.

*Deepa Punjani is Editor of this website.