Schedule
No upcoming shows.
Shaimak Davar must be feeling disposed. Up until April this year, his shows would lead to a beeline for tickets at the NCPA. Then came this strange - one-of-its-kind variety entertainment show by the most dwindling population in the world, the Parsees. Where the tickets sell out on day one itself. One wonders if half the Parsi population is in that line.

When the title of a play has the word - 'Laughter' in it - you expect nothing less than numerous moments that can be summed up in internet slang - LOL, ROFL, LMAO, and that is exactly what you get. The variety act is a tribute to the Late Adi Marzban who was famous for his farcical content. The tribute is put together by his most loyal students and actors, who are living out their twilight years on the Tata Theatre stage at the NCPA.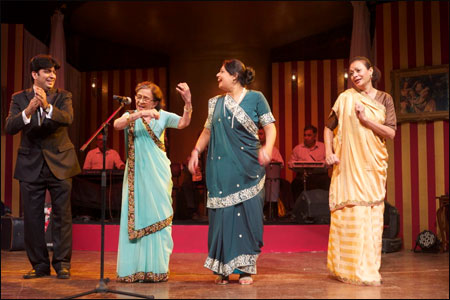 The play has everything a variety show needs - song, dance, gags and ... oh yes - a compare trying to hold it together. All of which happens with seamless ease. The show starts off with the stalwarts of Parsi theatre assembling on stage to sing what they call the Parsi National Anthem. Simply their entry onto stage was adequate to garner a standing ovation. Humble as they are, each one of them, old and young, puts on their colourful velvet prayer cap before proceeding to sing. The golden oldies sing with ease, while their younger counterparts seem to be lip-syncing - hoping nobody will realize they don't know the words to the song.

The gags that follow are hilarious. Anybody with a sense of humour can enjoy them. And Director Sam Kerawala - (THE RUMMY GAME, MISS BINDASS, FARAMJI NI FILM UTRI - the list is endless) has smartly mixed the old and new cast into a great set of 3 - 4 minute performances.

Not to play spoiler - but the gag that had the audience justify the title of the play the most was of a young school boy whose teacher doesn't allow him to add numbers on his fingers and makes him put his hands in his pockets - and then asks - ''what is five plus five?'' ... Parsi and English Theatre's promising and talented actor - Danesh Irani - fiddles in his pockets before replying - ''Eleven''...

Such is the humour of Adi Marzban and Parsi Theatre.

The opening show, which was Adi Marzban's birthday, saw one of his students - one certain - Boman Irani - exercising his vocal chords, and the audience warming up their hands with applause. But sadly he is no longer part of the show and his replacement - Sheriar Irani - is one of the biggest disappointments of the show along with the completely out of place dances by Hormuz Khambata's troupe. Sheriar sings, what he thinks, are funny versions of songs - with lyrics he has made up.

The tagline of the show is Nostalgia - and when you see the dance numbers - one gets nostalgic about the previous night's nightmares coming true. They're not just out of place in an otherwise hilarious show, but the dancers seem to be ''wooing'' themselves. It took me a while to realize that the cheering is not happening from the audience, but from the stage itself.

The Pappa from the Munnabhai movie - Bomi Dotiwala seems to be the show stealer. He is in majority of the gags and sings his version of Sorrento in Parsi - Gujarati, which has both the young and old in splits. Bomi and his wife - Dolly - seem to be Sam's favorites and appear in most of the gags.

Hats off to the director for trying to give everybody a chance to come up on stage. There are certain actors who literally just appear in a single gag and one of the ladies comes only towards the end as part of the Qawali to clap, and not even sing. To her I say - Attend every rehearsal - clapping is a very complicated art! Speaking of the Qawali - it drags out a bit and the band seems to overpower them with their stubborn need to be loud and unclear.





Fali Unwala's set is as Parsi as it gets. Red pin-stripped walls with an entrance on either side, and a bench and sofa. Works in every Parsi natak. Marzban Mehta's band is thoroughly entertaining, and I would love for him to play at my Parsi wedding, but for now can we hear the artists instead please? The band overpowers the singing.

Amongst the artists - there is a tussle between the three couples on stage for supremacy - Burjor and Ruby Patel, Rohinton and Scherry Mody, and Bomi and Dolly Dotiwala. Each pair more entertaining than the other. Pervez Mehta and his God-like, James Earl Jones voice is worth listening to. Age unfortunately has him restricted to performing a couple of gags only. One would have loved to see more of him.

Amongst the youngsters - it's Danesh Irani who appears in most of the gags and songs. Director Sam Kerawala swears by Danesh and believes him to be Parsi Theatre's next Superstar. And you cannot argue with Sam. Full stop. None of the other youngsters have a significant role.

The MC - Jim Vimadalal (LIKE DAT ONLY, BUTTERFLIES ARE FREE) - takes center stage - no wait - stage right - no wait - again center stage - ...no... stage right... Stick to one spot MC! But apart from that - he delivers with ease. Surely knows how to crack up an audience with his little cue cards and freshly pressed tuxedo. Jim has a good personality and is an asset in any Parsi production.

Don't take your kids for this one - they probably will get bored. Instead - kids - take your parents - let them have a good time reminiscing the golden era of Adi Marzban, a legend in his own right. Provided you are lucky to get the tickets!

Meherzad Patel is a writer, director and actor. He found his theatre company Silly Point Productions in 2008. The group has produced 9 plays so far which include THE CLASS ACT, RUSTY SCREWS and their latest, BLACK COMEDY.