Urmila Pawar is an acclaimed Maharashtrian writer, who has discussed Dalit culture and gender issues in Maharashtra since the past two decades. Weaving is the metaphor of Urmila Pawar's memoir 'Aayadan' (published in 2002). Sushma Deshpande has directed the stage production of this rare and honest autobiography. A committed theatre practitioner, Sushma Deshpande has been performing the one-woman show VHAY MEE SAVITRIBAI for over 25 years. VHAY MEE SAVITRIBAI was a commentary on caste discrimination and women's issues and is based on the 19th century social reformer Savitribai Phule's life.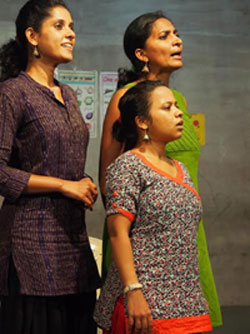 The play AAYDAAN, offers yet another critical opportunity to Indian society after 150 years of virtual silence on caste and gender since social workers fomented revolutionary ideas in the 19th century. And, who better than activist-actor Deshpande to have created this stage version, especially since she has known Urmila Pawar from the 1980s through Maitrini, a women's group.

With this play, Sushma Deshpande has negotiated and presented the journey of Urmila Pawar from the region of Konkan to Mumbai - as a Mahar, a Dalit, and as a woman - who challenged the conventions of both caste and gender to emerge as a strong literary voice. Awishkar and Anjor have co-produced this two-hour play. The concept had been developed by Mumbai-based playwright and director Ramu Ramanathan. Deshpande worked on the script of the play. The beauty is that the original sequences are intact, and the dialectic nuances and linguistic expressions have not been contaminated.

The three young actors, Nandita Dhuri, Shubhangi Sawarkar, Shilpa Mane deliver a tour de force performance. They sashay effortlessly from one role to another and also alternate as the protagonist. Each of them has a unique style and Sushma Deshpande has cleverly deployed stagecraft to underscore the strengths of her three superb actors. The three of them succeed in giving a dedicated depiction of Pawar's narrative. While portraying the multiple characters, they inter-change parts, gracefully and instinctively.

Aaydaan is a generic term for articles made from bamboo - trays, baskets, grain winnower, to name a few. Urmila Pawar's mother (her presence in the play is most moving) made these Aaydaan - bamboo handicrafts. Pawar finds a similarity in the weaving pattern of her writing; as well as the weaving of bamboo strips in her mother's hands, that take the shape of the finished bamboo items. She says: "My mother used to weave Aaydan...I find that her act of weaving and my act of writing are organically linked. The weave is similar. It is the weave of pain, suffering, and agony that links us." She further recalls: "When I asked my mother about 'motherhood', she replied in one word 'sacrifice' with pain on her face."

The play plot follows the book - born in a Dalit family, Urmila Pawar grew up in Konkan. At first, she became aware of being born a Dalit. At a later stage, her realisation of being born a woman raised her to another level of consciousness. She grew up watching her widowed mother weave aaydan as she strove to make ends meet. In writing the memoir, she says, "I was a rebellious child and had numerous fights with my mother while growing up. But by the time I wrote this book, I felt I had taken her place. Like her, I was attempting to make the most of my life in a patriarchal society, I had lost my husband and my son and my two girls misunderstood me because they could not understand my need to have a life beyond home. It's as if our lives had been juxtaposed."

In this frank and intimate memoir, Pawar not only shares her effort to surmount personal tragedy but also conveys the excitement of an awakening consciousness during a time of political and social change in the seventies. Pawar's prose-styled writing has also been retained in the play.

The scene selection for the play is thoughtful. The use of bamboo, integral to the play, is reflected in the minimalist stage design. The lights are also minimal (but could be much better), complementing the stage design.

The scenes in the school are presented in such a fashion that initially they make you smile - at the end of the scene, you however feel ashamed and sad. The scenes hold a mirror to the Indian society - how children show signs of caste discrimination and untouchability from a young age and how the poor are humiliated for their hunger. Pawar uses instances revolving around food and these are heart wrenching.

It is also agonising to see how the protagonist suffers at home despite her advancement in her public life - her position is not comfortable as Harischandra, her husband, constantly feels inferior due to her rising popularity and success. During the play there are other eye-opening moments, where Urmila talks about Manu Smruti - "Manu Smruti has imposed many restrictions on women and built the caste system. That is why Babasaheb (Ambedkar) said that the woman is a gateway of the caste system"

The spectator gets an account about the protagonist's conversion to Buddhism following Babasaheb Ambedkar's call to renounce the caste-based Hindu religion. Her conversion laid the foundation of her personal growth, and her discovery of feminism after moving to Mumbai, became perhaps, the second-most important event that shaped her life.

Urmila Pawar has lived her life with touching honesty. In her writing, she has the ability to document it with a tongue-in-cheek candour and humour - in fact she gains her strength to stand her ground in spite of the several indignities and the pain and tragedy that she had to encounter.

There are innumerable lessons to gain from Urmila Pawar's story spanning three generations and from her transformation to a noted feminist and Dalit writer. Apart from recording a woman's discovery of selfhood and her assertion of identity, the play offers a troubling picture of an Indian society that is oppressed by caste. Pawar has given minute details of oppression and exploitations of the girl child, of Dalits and of women in general.

As the late feminist scholar and sociologist Sharmila Rege suggests - "...this weave should not be read as a feminist or Dalit autobiography, rather as, 'historical narrative of experience'." Like Sushma Deshpande's VHAY MEE SAVITRIBAI, may AAYDAAN also travel the length and breadth of this country and may it be staged a 1000 times and more. It's simple and compelling message needs to be heard and paid heed to. A modern and presumably forward-looking India can ill afford to ignore the essential humanity of this text that has been vividly captured on stage.

Jayashree Hari Joshi has done her M. Phil. Her thesis is a comparative study of Rasvighna / Natyashastra and the Experimental Theatre of Bertolt Brecht. She is working with the Goethe Institut/Max Mueller Bhavan Mumbai as Officer - Cultural Programmes.