Schedule
No upcoming shows.
Lord Krishna is a well-known God. He has numerous worshippers not just in India but in other parts of the world too. Indians of course only know him too well. Brought up on a staple diet of his tales, Krishna embodies many aspects. Manhar Gadia's BOHOT NACHYO GOPAL attempts to demystify the godly figure. It seeks to reveal the various sides to Krishna's personality through the monologues of six people who were close to him. It is also clear at the beginning of the play that Gujarati audiences can hope for something different than the typical box set affairs.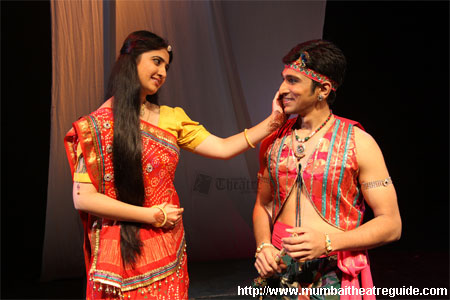 Yashodha comes on first, followed by Radha, then Sudama, who is followed by Arjun; next in line are Draupadi and finally, his consort Rukmani. One would have hoped for something refreshing in terms of the content but that isn't the case. Content wise there is no value addition. Though the stories are presented from the point of view of characters who are reflecting on Krishna, the tales are already too well known. They are just tastefully presented. However Mihir Bhuta's script has an inherent rhythm and is peppered with literary words. But probably a mix of dialogue and monologue might have made the proceedings more interesting. While Krishna is present through all the monologues, he remains silent. The onus is therefore on the six characters to keep the audience involved with their reflections.

It is challenging when the actor is all alone on stage and all the impulses have to come from within. As a result, the stream of words tends to make the pieces verbose. Janki Vaidya (Yashodha), Trupti Thakkar (Radha), Yogesh Upadhyay (Arjun), Amita Chokshi (Draupadi), Bhamini Gandhi (Rukmani) all enact their parts with sincerity and look their parts but sadly, they don't always connect with the audience. One feels that their characterizations are one-dimensional and the potential of the potential depth that these monologues might have offered, remains unexplored at all the three levels of writing, direction and performance. Pratik Gandhi (Krishna) is the perfect 'natkhat' Gopal but unfortunately doesn't have much to do and hence is wasted. This is perhaps where the four directors Darshan Jariwala (for Yashodha), Mihir Bhuta (for Radha, Krishna), Mansi Parekh (for Rukmani), Pratik Gandhi (for Draupadi, Arjun) could have contributed. Kamlesh Mota (Sudama) does one thing different - he 'physicalizes' the emotions and directs himself. As the play sums up, audiences can be heard commenting that 'Sudama' was the best piece amongst the others.

With a figure like Krishna, one takes it for granted that there will be music and dance. The play uses live music to its advantage, adding some value to the stories. Uday Mazumdar's compositons are ear pleasing. At the same time one would feel that songs and even dance perhaps could have been used more effectively, making the production vibrant. The set design (Subhash Ashar) is minimalistic yet effective while the light design (Kamlesh Mota) adds a lot of color to the play.

In spite of its limitations, the production makes an honest attempt to explore the human dimensions of an idolized God.

*Pratik Kothari has a Diploma in Acting from Barry John's acting studio. He has worked with theatre groups like Manoj Shah's Ideas Unlimited and Salim Arif's Essay Communications. He has also acted in films and is currently assistant director on Shyam Benegal's TV Series 'Samvidhan'.