Direction : Sunil Shanbag
Writer : Vivek V Narayan
Cast : Satyajit Sharma, Sudhir Pandey, Jagdish Rajpurohit, Manasi Rachh, Bhushan Boregaonkar, Shailesh Hejmadi, Anand Pande, Animesh Kamath and Amruta Sant


Walking To The Sun play review
---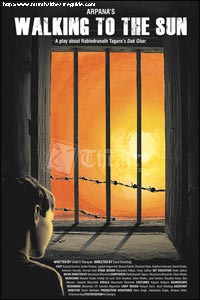 Arpana's latest production, written by Vivek Narayan, and directed by Sunil Shanbag is a sombre piece of Theatre. Based on Rabindranath Tagore's famous play DAK GHAR (translated into Hindi for this production by Ashok Mishra), and on true incidents from the life of the Polish doctor and storyteller Dr. Janusz Korczak, the play is a poignant tribute to the human spirit that gathers hope, even where there seems to be none.

The Jewish Holocaust has been a recurring theme in International Literature, and indeed if its horrors don't seem to diminish in their spectre, there is little surprise now left about what was no doubt, amongst the most terrible of events in World History. To me then, what was far more interesting in Arpana's juxtaposition of an Indian story with that of Dr. Korczack's narration of the marching of the Nazis, as they draw closer to his home and to his life, were those few and small moments through which we can commune with ourselves. And in this instance, while not quite wholesomely, to also contemplate the beautiful and the subtle story of Amal, the little boy from DAK GHAR.

While Dr. Korczak's narration is top-heavy in the first part of the production, but played wonderfully by Satyajit Sharma, it is actually post interval that there is some catharsis to be experienced. The closing scenes though expected, come together in an inspiring tableau of people whose terrifying destinies are outmatched by their hope to 'walk to the sun.'

The production is infused with a grimness that lingers to the end, and it is almost tactile. The set (Nayantara Kotian, Vivek Jadhav), light (Hidayat Sami, Sunil Shanbag), sound (Mohandas VP, Sukanta Majumdar), and music (Moushumi Bhowmik)- all come very nicely together to underscore the two interlocking stories in which reality and fiction are sought to merge seamlessly by the writer Vivek Narayan. There is a certain poetic quality that emerges as these various theatrical elements are brought together, and Sunil's direction is the stronger to be able to not only communicate the words, but also the external as well as the internal landscapes of the two protagonists.

If it is not possible to appreciate more fully the finer nuances of Tagore's fable, it is not meant to be. His DAK GHAR here has a role in that it is subordinated to the larger story of the times from Dr. Korzack's life. And yet it is possible to appreciate the other essential aspect of the narrative, and that is of how children too need to be attended with dignity. With Satyajit Sharma's Dr. Korzack, all other actors- Jagdish Rajpurohit and Sudhir Pandey, Bhushan Vikas, Shailesh Hejmadi, Anand Pande, Animesh Kamath, Amruta Sant, including Manasi Rachh who plays the wonderful child Amal, are quite superlative.

WALKING TO THE SUN is one of the better productions of our times. It brings together the dramatic and more vivid style of Indian storytelling with that of the more stark approach of a European work of art. It is both a requiem and a song of hope.

*Deepa Punjani is Editor of this site.