Direction : Anuvabh Pal
Writer : Anuvabh Pal
Cast : Sophi Choudhry, Kunaal Roy Kapur, Ashwin Mushran, Faezeh Jalili, Ratanabali Bhattacharjee, Siddharth Kumar


1-888-Dial-India play review
---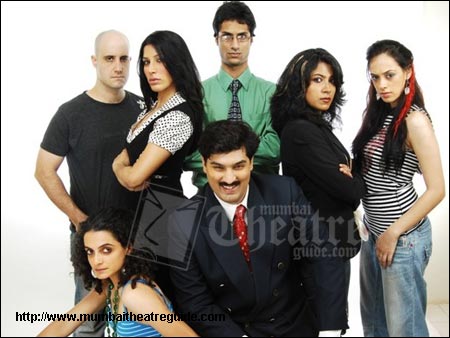 Urban India is such a wonderful 'maximum' space. It is hard not to see it as a bit of a freak even, and yet marvel at its ability to balance its incongruities and chuckle at its idiosyncrasies. Every form of writing for its worth of ink is dipping into its endless reserves. Anuvab Pal for one has always looked into the funnier side of our world in flux. His latest outing 1888.DIAL.INDIA toes the line of his pet preoccupation.

The plot is housed in a BPO that outsources a suicide helpline for Americans and is run by a smarmy gent (played by Kunaal Roy Kapur). He hires a boy (Siddharth Kumar) and a girl (Ratnabali Bhattacharjee) to answer his macabre calling and so begins a farce that is pegged on our ridiculous attempts to fit into a lifestyle and ethos so alien, that it bends us laughably out of shape.

Genre wise this kind of effort would be fitting as a farce and while it does have the appearance to pass off as one, it doesn't quite hit the spot when it comes to the purpose of farces. BPOs have served as the ideal metaphor for the Great Indian confusion- the lure of money, as the odd job for an identity/integrity challenged generation, yearning to leap over the class divide. Then, as is the way of things, it degenerated into a cliché begging for euthanasia. To drag it onto the stage without much life support at such a time is cruelty. And it's not the only.

A farce without satire and irony is limp. A farce without anything funny to say is tragic. Humour is more than a ticket-selling trick. It can be deployed in ways that can make the issue at hand more telling. But Pal squanders this potential by restricting the humour to assembly line jokes that are unappetizing, stale and soggy. Performances too are lukewarm. Mercifully not over the top slapstick, but neither skilful enough to essay caricatures in a way that could make you see why 2-D can sometimes be better than 3-D. The stage is clogged with dead weight for a set and under utilized.

The laugh and saunter along routine would have been amusing enough for a 'light' evening, if inherent in its subject were not a purported commentary on the times we live in. When a play has intellectual aspirations it opens its doors to greater scrutiny. The subtext is never political here. Pal resorts to standard malice for one and all. The vignettes from across the old/new divide are either run of the mill or too insignificant to give the commentary any bite. Satire is meant to access the mind in a different way and not as an excuse to disengage it. If you parade characters like a young girl who is always on social networking websites and an old woman who secretly wants to pole dance, there isn't much the mind will find to do with. Besides, when did pole dancing become a symbol for anything? And why would a nun train call centre employees for their accent? Was Pal trying to throw in a touch of the bizarre to compensate for the unimaginative device on the whole?

The play might be posing to plead that death and human emotions are sacrosanct but that is just too much to say for something that lets this crux slip too easily from the greasy pulp of its plot. The new kids on the block, who are hoarding on the Indian dream are perhaps soft targets to lampoon but to gloss over the pathos that informs their choices and the urban cultural hegemony that is feeding their delusions, doesn't seem fair anymore.

Anuvab Pal's writing has exceptional potential if his earlier works are anything to go by. Which is what makes this fare a tad more disappointing. It falls upon artists and writers-the chroniclers of our history, the perpetrators of our myths and the guardians of our collective conscience to tell our stories for maximum impact. But for now all one can sigh off with is the thought that at a time when celebrity is the new morality and America the new cultural empire, there is a lot in our newly 'liberalized' land that is resigned to slow suicide. But this play is not the helpline to call.

*Pragya Tiwari is a theatre critic and documentary filmmaker.