Direction : Feroz Khan
Writer : Donald Marguile
Cast : Tisca Chopra, Vinay Jain, Joy Sengupta, Perizaad Zorabian Irani


Dinner With Friends play review
---
The 2000 Pulitzer award winning play by Donald Margulies, a Yale University professor, has won praise for its finesse and subtlety in portraying the myriad threads of the complexities of Marriage. The Indian adaptation, directed by Feroz Khan revolves around the break- up of Harsh and Dia (Joy Sengupta and Tisca Chopra), and the subsequent soul searching their divorce leads to with their friends turned mediators, Vikram and Maya (played by Vinay Jain and Perizaad Zorabian Irani).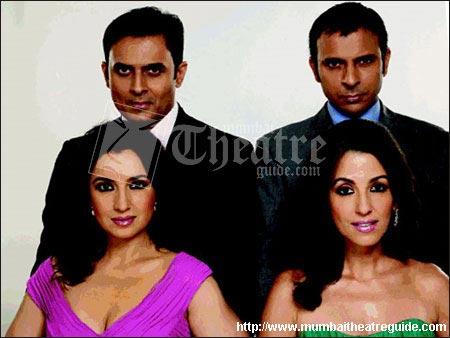 At a cosy dinner at her friend's, Dia reveals the cracks in her marriage, and the impending divorce with Harsh, who has hooked up with an air hostess. Subsequently, Harsh reveals his side of the story, of his nagging wife who no longer gives him physical proximity. The play goes on to explore the post-divorce scenario with both Harsh and Dia having found new partners. The aftershocks of their divorce now begins to rock the apparently stable and secure marriage of Vikram and Maya, who find themselves re-examining their own love for each other below the seemingly tranquil surface.
The one-liners in the play succeed well in laying bare the real motivations of the divorced couple. Harsh longs for physical proximity at the expense of Dia's artistic ambitions. She is a painter, and Harsh is no connoisseur of the mute and coloured canvas, preferring she used her hands to give him pleasure instead. He would love to go on long jogs with his new found partner and make love in the shower, than stand and admire Dia's 'neo-psychotic' art. 'Hysteria on steroids', as he describes Dia's temper, is the natural outcome.

The play throws up interesting questions on what constitutes the basis of a marriage. How far can physical love alone make a marriage work, and once it slackens and gives way, should the sacrament of marriage necessarily crumble? More importantly, with age and experience widening the horizons, ought there to be a loosening of expectations between a married couple to explore their own personal lives? As Dia confides to her friend, she ultimately finds her true mate who is open and transparent, ('what you see is what you get'), and her marital life is no longer a case of two individuals sulking in two opposite dark corners at home.

The actors are relatively young in comparison to the characters they portray, but they do full justice, especially Perizaad, who has internalised her character well and never sounds as if she is reading from the script. Tisca Chopra's subdued demeanour does well to portray the misery of her character. The men too play their roles well, and the well directed action runs smoothly across a designer interior set, aptly underscoring the cozy upper class lifestyle.

Donald Margulies 's play will be well appreciated by a mature audience willing to explore the deceptive calmness that can sometimes engulf our lives, and to ask the tough questions, if only to re-kindle old love and keep the fire burning.

*Amit Sharma works for a knowledge consultancy firm, and writes to make it meaningful.