---
Ujwala Karmarkar





Direction : Isheeta Ganguly
Writer : Isheeta Ganguly
Cast : Prerna Talwar, Kohmal Khanna & Archana Patel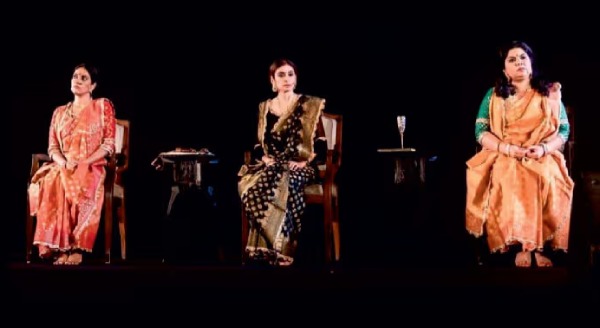 This review is of the play with the old cast. There is the new cast featuring (Dipika Roy, Amrita Raichand, Madhurima Nigam and Samir Kochhar)

The reverence for Tagore and his creations is well known. THREE WOMEN, a musical play written and directed by Isheeta Ganguly, is steeped in Tagore-lore.

Isheeta Ganguly's training in Rabindra Sangeet and her familiarity with Tagore's heroines enables her to bring these strands together along with a surprise element. At the centre is Tagore's muse and the love of his early life, Kadambari Devi, who was also his sister-in-law. Ganguly brings Kadambari Devi face-to-face with two of the heroines inspired by her life, to engage in a discussion which is cathartic.

Ganguly has chosen Charulata from Nastanirh (Broken Nest) and Bimala from Ghare Baire (Home and the Outside World). Both represent the upper class Bengali woman of the nineteenth century. Circumventing the pen that created them, they engage in a frank conversation about their dreams, fantasies, errors and regrets. Not surprisingly, the story of Charulata's emotional turmoil and Bimala's choices seems to follow the trajectory of Tagore's muse, Kadambari Devi. Her loneliness amidst the Tagore clan, her inability to make an avowal of her forbidden love, her feeling of alienation from her husband followed by her own betrayal of her marriage vows - all find echoes in the lives of these Tagore heroines.

Ganguly goes a step further. What if Tagore's muse Kadambari Devi travelled forward in time? Would the modern Kadambari Devi have some homilies for these women drawn from her past? Ganguly certainly thinks so. Kadambari expresses a refreshingly rebellious undertone after her journey to the present day world. It is almost as if she wishes to cast off the shackles that time, tradition and her story have cast on Charulata and Bimla- the two women inspired by her, and shows them a new direction. Her dialogue peppered with quotes from Sex and the City (''Play it cool'' and ''take Xanax'') delivered in an Americanised twang, struck a chord with the largely female audience at the NCPA.

The play is a musical and the heroines find expression through Rabindra Sangeet, the timeless rendering of which, is part of any Tagore reminiscence. Furthermore, there is a screen which forms a backdrop on the stage and introduces vignettes from the lives of her 'Three Women'. Appropriate scenes from Satyajit Ray's films, Charulata and Ghare Baire are screened, as are photographs from Tagore's early life. Although they do add context at times, the screen can be distracting.

Ankita Akerkar's Kadambari Devi and Meher Acharia-Dhar's Charulata are spontaneous and lively. Isheeta Ganguly, who also acts in the piece, plays Bimala with restraint. Given that the format of the play is that of a dramatised reading, the delivery could have been smoother and the lines spoken with more passion.

The live music adds a beautiful touch. Sangeeta Bhuyan's heartfelt playing of the violin had the audience bursting into spontaneous applause. Sometimes though, the background score tends to drown out the dialogue. Isheeta Ganguly, a fusion singer, has also sung the Rabindra Sangeet pieces, and interspersed it with English songs chosen for the play. She does this very well with feeling and emotion, ably supported by Suchet Malhotra on the tabla. Tarun Tahiliani's costumes are tasteful, although Kadambari Devi's stilettos had me nonplussed. Were they a symbol of her time-travel?

Ganguly's premise is a brilliant one with a never-explored-before angle to Tagore's work and his life; that of a back-from-the-future muse conferring with the heroines inspired by her but the two-hour play could have been shorter. Continuous references to ''procheena'' (ancient) and ''noveena'' (modern) women, and ''how nothing has changed for women'', could have called for an interesting discussion. But this angle is not explored beyond asking women to 'find their voice'. This is, in fact, the major shortcoming of Ganguly's script as it fails to effectively bring these heroines closer to redefining their lives. The feeling of having unresolved the core issues was strong at the end of the performance. But the play is worth a watch for its music and its hitherto unexplored aspect of Tagore's life and his muse Kadambari Devi on stage.

*Ujwala Karmakar is an Anaesthesiologist by profession. She likes to watch plays, read, and listen to music among other things. Ujwala has also been writing on women's issues, parenting, travel, etc.





| | |
| --- | --- |
| | THREE WOMEN Play Schedule(s) |
No upcoming shows.