PIYA BEHRUPIYA is a musical adaptation in Hindi of TWELFTH NIGHT, one of William Shakespeare's best known romantic comedies. Commissioned for The Globe to Globe Festival, which took place at the Globe theatre in London earlier this year, the play, directed by Atul Kumar of The Company Theatre, is a full-throttled take on its original. The adaptation by Amitosh Nagpal who also plays Sebastian, delights with an originality of its own and befits the Nautanki (a folk performance tradition from North India) style of the performance. Imagine a travelling troupe of singer-performers who set up tent and deliver an impromptu performance. It has a freewheeling quality to it and the actors make up for the lack of any stage design.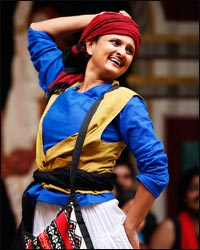 Sticking to the original names of the characters, the production nevertheless takes on a distinct Indian idiom with a variety of Hindi dialects. The plot is quickly underway with Viola (Geetanjali Kulkarni) shipwrecked on the shores of Illyria. She believes her twin, lookalike brother, Sebastian to be dead and masquerades as Cesario in service to Duke Orsino (Sagar Deshmukh). Viola falls in love with the Duke but he is in love with Lady Olivia (Mansi Multani) who in turn is mourning the deaths of her father and brother and claims that she has nothing to do with any suitors.

But soon enough, mistaken identities and romantic interests converge, and the comedy is set in motion. This also involves Olivia's uncle, Sir Toby (Gagan Riar) and their aides conspiring to make Olivia's steward, Malvolio (Saurabh Nayyar) believe that his Lady Olivia desires to marry him. To add to the fun, Lady Olivia, forgetting her grief falls in love with Cesario when she sets her eyes on 'him'. But all ends well as Viola's missing brother Sebastian turns up towards the end of the play.

Unmindful of the class hierarchies in the original, here almost all characters appear at par in their social standing as they quite literally jostle their shoulders with each other. The only exception is Mansi Multani's Lady Olivia, whose built, unique voice and Punjabi set her apart. Trupti Khamkar, resembling the archetype of a gaon ki chori (a village belle) plays Lady Olivia's maid with a zest of her own. Mantra Mugdh plays the simpleton Sir Andrew Aguecheek, companion to Sir Toby, and also in love with Lady Olivia. Director Atul Kumar's six-year-old daughter Noor joins the merry ensemble and adds to the charm. Geetanjali Kulkarni plays Cesario, Viola's impersonation with the characteristic ease and flair that she brings to her performances and one can almost overlook the fact that she is a little too old for the part; Sagar Deshmukh's persona of Duke Orsino however complements her well.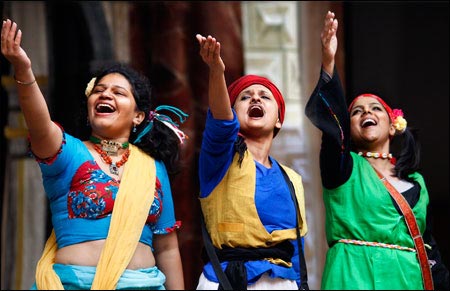 As a musical, the performances rise and fall. In tune with Amod Bhatt and Rahul Sharma's live music, aided by Rachel D'Souza and Trisha Kale, most of the actors manage to get the rhythm right but are not singers and this is evident. When the 'unmusical' voices begin to sometimes jar, deliverance is in sight with Mansi Multani, Neha Saraf and Amitosh Nagpal's voices. Very different from each other's, they nevertheless carry a force and charm that binds the musicality in the play together. Neha Saraf who plays the clown Feste is a show-stealer. She again has an unusual voice and is in fact much brighter and audible while singing than when she is not. She's got some of the best lines and her small frame only accentuates her character. Amitosh Nagpal's Sebastian appears on and off, but provokes some of the loudest laughter while alluding to his brief part in the play. He also has a strong and clear voice.

There is a loud, over-the-top manner defining the performances, which works in parts but it takes away the clarity of the lines and it all appears very rushed at times. It would be nice to be able to appreciate the lines in their adapted version. The foolery works where it must but the production as a whole seems to be only serving that end. Something more of essence is missing. Yet this Company Theatre's production dishes out a refreshing version of Shakespeare in our context and immediately makes it our own.

*Deepa Punjani is Editor of this website.