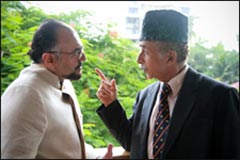 When Motley does a play, one walks into the theatre with certain expectations, owing either to habit (having seen various productions of Motley over the years) or to Naseeruddin Shah, the iconic actor-director at the helm of the group. The two reasons with the passage of time since Motley's inception, are actually now inseparable. Motley also is one of the groups for whom the age-old tradition of the actor and the script is of paramount value. Everything else then that makes up a production is like a corollary that follows this fundamental premise. Debutante director and leading actress of Motley, Ratna Pathak Shah continues in this time-honoured tradition with A WALK IN THE WOODS. She directs her husband Naseeruddin Shah and Rajit Kapur, a commanding actor in his own right.

While Lee Blessing's original play (1988) revolves around the relationship between an American arms negotiator and his Russian counterpart at the height of the cold war, Faisal Rashid and Randeep Hooda's Indian adaptation for Motley locates the text in our sub-continent's perilous history following Partition and in the ever strained and tenuous relationship between India and Pakistan since then.

Diplomats/negotiators/interlocutors representing Pakistan and India, Jamaluddin Lutfullah (Naseeruddin Shah) and Ram Chinappa (Rajit Kapur) meet in Geneva to discuss a proposal that might ease the tension between the two countries and pave the way forward to progress and peace. Lofty ideals that the cynical and older Jamal is quick to dismiss even as his younger Indian counterpart Ram persists with a steely determination.

At the heart of the play lies the very familiar and regretful litany of missed opportunities at various times in world history when well-meaning individuals representing the power machinery of their governments set out to find a more amicable dialogue that would be for the betterment of their people. We can empathize with Jamal's cynicism that holds a bitter kernel of truth. At another level, the play provides the classic dramatic opportunity to pitch two unlikely characters together. The drama in fact is more about the two very different and yet similar characters who find themselves together than the premise on which the play is centred.

As such this provides a wonderful opportunity to the two actors to display their histrionics, and for Shah's Jamal to engage in moments of humour and levity. Both Shah and Kapur are at top of their game. Kapur especially has turned in a performance which in years to come will go down as one of his finest. Note especially the cadences in his voice as he artfully manages the stiff, unrelenting, and yet earnest and genuine in his heart counterfoil to Shah's Jamal. Shah on the other hand is the older master literally and metaphorically. We have come to identify certain characteristics with Shah's performance but just as you might think that the veteran actor is settling into one of his familiar, seasoned performances, he manages to still surprise. His transformation rather than settling for a more known graph becomes evident as the play progresses.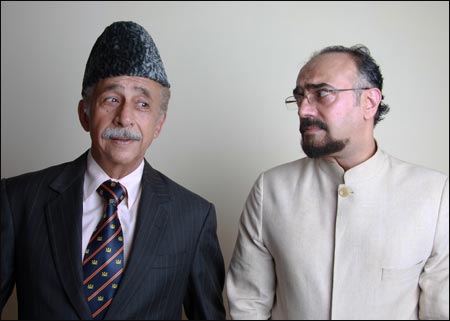 In face with such high standards of acting, it is interesting to contemplate Ratna Pathak Shah's role as a director. My feeling is that it must have been both inhibiting as well as challenging. Mihir Thaker and Amrita Bagchi's stage design is simple yet aesthetic and appropriate and is suitably transformed, indicative of the changing daylight by Michael Nazreth's light design. Costumes by Ratna Pathak Shah and Sajid of Intouch Fashion are well thought through and bring a marked distinction to Shah's Jamal and Kapur's Ram. However official and business-like the two appear in their clothes in the first half, their individual dressing immediately gives a sense of their core personalities with Jamal being posh-flamboyant and Ram being the no nonsense type and straitlaced in striking contrast. Vishal Bhardwaj has composed two poems that are sung by his wife Rekha Bhardwaj but they need to find more resonance in the production. In the same way the overall music arranged by Atul Raninga does not elicit any special remarks.

The adaptation apart from our context and referring back perhaps to the peacekeeping initiatives of Vajpayee's government, although it's not clear at all, and it doesn't really matter in the larger context, draws its lines from the original. The play thankfully circumvents the usual romanticised views that a lot of our plays and films tend to project while talking about India and Pakistan. Interesting to also note the Hindu mythological allusion to the Indian diplomat's name though it might be purely coincidental.

It is possible to find the play simplistic and the contextualized premise of the Indo-Pak relations, a bygone conclusion in our times today. Pakistan is going through its worst, possible phase ever and its diplomatic relationship with India has been far overtaken by more pressing concerns that will not only affect its own future but that of the world as well as its immediate neighbours, and not just India's. It is a time of great reckoning for Pakistan and the country needs to resolve several internal issues, and not least grapple with its own identity before there might be any hope at all for a new round of proposals to be exchanged between the two countries. Yet one will find the play to be essentially humanist with that rarefied as well as rare word 'conscience' that sets apart individuals like Jamaluddin Lutfullah and Ram Chinappa.

*Deepa Punjani is Editor of this website.