Schedule
No upcoming shows.
Jayant Pawar's KAAY DANGER WAARA SUTALYA is a take on everything. From domestic politics to international issues. More significantly, it is about our changing times. The play begins with the predicament of a young writer who is forced to make a mockery of his skills, because of financial reasons. He wishes to write stories of 'real' people. However, it is interesting to see that the 'real' people of his world are restricted to the middle class segment of our country. A segment that he is a part of. The lives of those living in the lower strata are nothing but a 'reality ad' for him.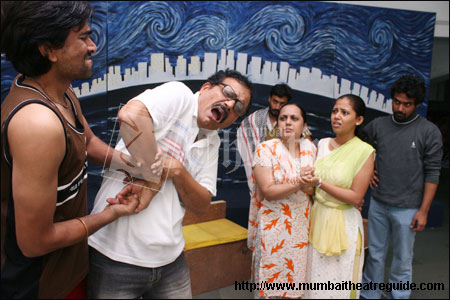 So, the writer's story focuses on one Satyavijay Dabhade, a man representing the middle class in our country. A man in his fifties who has let the routine of his daily simple life become a synonym for meekness. His education as a political science student brings in nothing more than a job of an insurance policy salesman. His son is an aspiring actor. Not because of any love for the profession but to achieve fame and make money. The daughter is a good girl, who writes love letters in the middle of the night over the Internet, but is believed to be working hard at her studies.

The only thing that makes this family special is the place in which they live. They have a small flat at Shivaji Park, but the highpoint is that it is sea facing. This becomes the cause of all of Dabade's problems, as well as the crux of the play. The play is a mirror to what happens when the politics of re-development, which are now routinely played out in the backyard of our government quarters hits the ground of our day to day domestic lives.

This play is also a representation of the fact that everyone is exploited in this world.
Even a rich man will have his problems to deal with. There is a parallel drawn between the sufferings that are endured by all. Yes, there is a lot of moralizing happening in this play, but not without style. Director Aniruddha Khutwad brings out the best from his actors. Akshay Shimpi as the narrator helps the audience to smoothly slip into the lives of the different characters. Anil Gavas as Satyavijay Dabhade puts forth a great performance. Abha Velenkar portrays the predicament as Dabade's wife, and mother to her two children brilliantly. The rest of the cast is quite good too.

Jayant Pawar is without a doubt one of the finest writers we have today. The music designed by Gandhar Sangoram is all right. The set design by Pradip Patil is beautiful and costumes by Sonal Kharade practical. All in all, a play definitely worth your time, money and thoughts.

*Pooja Gautam is a business journalist who enjoys theatre.