Direction : Lillete Dubey
Writer : Mohan Rakesh
Cast : Lillete Dubey, Mohan Agashe, Ira Dubey, Rajeev Siddhartha & Anuschka Sawhney


Adhe Adhure play review
---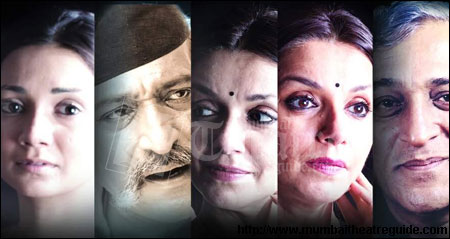 It doesn't happen often that a play written and performed over 40 years ago still appears ahead of its times. Watching writer and playwright Mohan Rakesh's classic play AADHE ADHURE, resurrected by Prime Time Theatre Company's director- actress Lillete Dubey is one such refreshing feeling.

It is the late sixties- a time in socialist India ridden with industrial strikes, and Mahendra (played by Mohan Agashe, who also portrays three other characters with finesse), is a broken man; the old patriarch whose house and family are now at the mercy of his youthful and always-at-his-throat wife Savitri (played by Lillete Dubey). Savitri is the bread winner with her own aspirations and desires that keep her entertained and the husband out of the house. The failed hero has more trouble in the family, in the form of a run-away elder daughter Binny (Ira Dubey), who is now back home after a strife ridden relationship with her husband, a jobless son (played by Rajeev Siddhartha), who is yet to come to terms with the system, and an adolescent school going daughter (played by Anuschka Sawhney), who likes reading Casanova stories and indulges in dirty talk with friends.

The story unfolds on a meticulously designed set reflecting the sixties décor, a house in a state of mess and decay and where the problems are as elusive to comprehend as the solutions. For the first half of the play, one struggles to find the root cause of Savitri's diatribe against her husband, and what went wrong with Binny's marital relationship. The members of this family are in a state of perpetual emotional turmoil, and for the entire duration of the play, one crisis moves the plot to the next one. There is something in the air of this house that is wrong, we learn. The underlying causes do emerge in the second half of the play, with shocking revelations.

The ending of this play has been much discussed, and the writer himself is reported to have admitted to its shortcomings. It will be difficult to find an ultra modern character like Savitri in real life, but her ordeal is the stuff of old tradition.

The attractive Lillete Dubey brings liveliness to the character of Savitri, and one wishes she lets herself go even further. Ira Dubey demonstrates her talent with a power packed performance as the daughter caught in the turmoil of her own life and that of her family. Rajeev Siddhartha plays the son to perfection, faithfully portraying the repressed angst of the character. Anuschka Sawhney does a cute job with her schoolgirl act, but one wonders - why should a school kid on stage be always shown dressed in uniform? Mohan Agashe does not try to project his voice, but makes himself comfortable in the shoes of his characters and delivers a good supporting role.

The play is supported by good set design and lighting, and that makes it easier to connect with the characters and relate to a house torn by conflicts, although the long, shabby and torn curtains appeared to be a hung mystery. One lacuna is the absence of background music at crucial points in the plot and during arguments to heighten the impact and act as a clue to turns in the situation.

The typical family life on our stage appears unrealistic with stereotyped characters. But this is different. The footfalls in our theatres will double and plays will be remembered for long if they came closer to reality. This production of AADHE ADHURE is worth watching for its good performances and a gripping plot.

*Amit Sharma works for a knowledge consultancy firm, and writes to make it meaningful.