Schedule
No upcoming shows.
Once again the celebrated trio of Gujarati stage come together. But does its 'Buddha (old) Brigade' comprising Sanat Vyas, Padma Rani and Arvind Rathod rock as the tagline suggests? DAMODAR DEEWANO THAYO is about an old couple Vasantlal (Sanat Vyas), Sudha (Padma Rani) and the couple's friend Damodar (Arvind Rathod).

Written by Vinod Sarvaiya, the play takes you into the home of a paranoid senior citizen Vasantlal whose attitude and nature are totally contradictory to his name. Vasant means spring but there is nothing cheery about Vasantlal. His wife Sudha has been bearing the brunt of his idiosyncrasies and obsessions. Vasantlal calls up the senior citizen helpline for mundane chores like opening tight jars and then applies his own 'Gujarati logic' to justify his actions.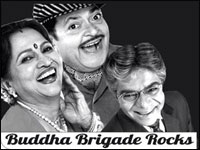 Then there is the typical Gujarati ben - Puri ben (Kinjal Bhatt) who has all the latest updates about each and every old couple in the neighbourhood. Damodar - a childhood common friend of Vasantlal and Sudha resurfaces after a long time. Damodar is the complete opposite of Vasantlal. He is as old as them but very young at heart. Sudha is once again impressed by his personality. Soon, Vasantlal suspects an affair between them. Puri ben adds the 'golo' to the fire. Vasantlal now believes that Damodar has malicious intentions. But then the suspense unfolds.

As you expect with Vipul Mehta, the play is well directed. The beauty of a few scenes lies just in the way they are treated. As far as the writing goes, there are some lovely lines and moments. But yet the script has not fully tapped into the potential of its subject and moments which could have had a more lasting impression, begin to fizzle out - like in the first scene where Vasantlal and Sudha talk about their son Rajiv who has settled in the US. The drama goes from being poignant to melodramatic. Also sometimes you feel that certain portions add nothing but length to the play. The set design is good and so is the choice of the colour. The selection of songs playing during the blackouts could have been more imaginative. Light design is in sync with the play most of the times.

Manoj Bhatt and Arsh Mehta do justice to their respective characters of the LIC agent and the Hawaldar but Kinjal Bhatt is a misfit in her role as Puri ben. It is very difficult to play older than you are, especially when you are performing among actors who are playing their age. She has made an effort but her act is unconvincing. We have seen Padma Rani perform magic on stage with her characters and hence the moniker Rani.

In a play that features her, the expectations are bound to be high. Though she is generally good, she is ever so slightly off the mark here. Arvind Rathod has the charisma to pull off Damodar and his lively act keeps you engaged. But the life of the play belongs to Sanat Vyas. He plays the paranoid Vasantlal and then transforms effortlessly. To his advantage, he also has the best character - akin to an underdog who transforms. Most of the times, the audiences connect immediately. His comic timing is also superb. The play truly belongs to him. All in all this is a decent production which could have been even better.

Pratik Kothari has a Diploma in Acting from Barry John's acting studio. He has worked with theatre groups like Manoj Shah's Ideas Unlimited and Salim Arif's Essay Communications. He has also acted in films and is currently assistant director on Shyam Benegal's TV Series 'Samvidhan'.