Schedule
No upcoming shows.
Hum Apke Hain Kaun set the tempo for the great Bollywood wedding tamasha, and films like Monsoon Wedding, Band Baaja Baarat, Tanu Weds Manu, and others added more glitz and glamour to on-screen weddings. Such inspirations were soon cashed in by savvy entrepreneurs who saw big opportunity and money to be made in the Great Indian wedding. So the street smart mandapwalla was redundant. It was time to say welcome to the wedding planner. Getting married became an event to be outmatched. Bharat Dabholkar's and Ashwin Gidwani Productions' BLAME IT ON YASHRAJ is a take on the big Indian wedding tamasha, spiked with romance.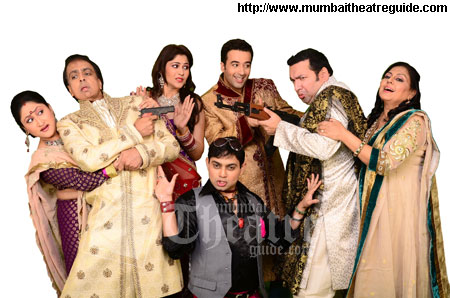 What happens when the daughter of a well settled Punjabi/Bengali family falls in love with a Muslim? The bride's father's apoplexy turns into a serial nightmare; the first episode is a wild imagining of his daughter's in-laws - as a family of terrorists! But that is just the beginning. When the father comes around to accepting the marriage, a small affair is well on its way to becoming a high profile event. If it's not enough for the ceremonies to be in accordance with Muslim, Punjabi and Bengali traditions, the wedding planner juggles the wedding and the prenuptials in reverse order as he scripts the sangeet as the finale, instead of the wedding!

BLAME IT ON YASHRAJ deals with our social prejudices and attitudes with loads of fun. It's a good-humoured look at mixed marriages and the booming wedding industry in India. The script however is familiar as it borrows from the American films, Father of the Bride and Meet the Parents. Dabholkar's plot is thin and predictable. He uses the Bollywood ploy of entertaining the audience by dressing up his show with dance sequences set to Louis Banks' throbbing music, which meet the audience's full approval.

In all this gloss and glitz, it may appear that performances aren't paramount. But that is not the case. The cast is ably led by Anant Mahadevan and Jayati Bhatia and Jayati delivers a fine and energetic performance. Neil Gagdani as the bride's nerdy brother is impressive. Palash Dutta is over the top as the wedding planner, but entertains.

Trust Ashwin Gidwani to raise the bar on an out an out entertaining show. Indeed Bharat Dabholkar's script lives up to Silk's adage from the film The Dirty Picture: "Entertainment, Entertainment & Entertainment."

Piroj Wadia is a film critic, journalist and copy consultant of long standing. She has been reviewing Hindi films for the Free Press Journal and international films for Screen. She has written extensively on television and films for Screen, Indian Express & Deccan Chronicle. Other papers she writes for are Midday, Afternoon Despatch & Courier, Jame-Jamshed Weekly. She has served on the jury for the ITA awards; and IDPA awards.