On Holi, that too a Sunday afternoon, when team India is taking on West Indies - who would imagine that a Marathi play would draw a packed house? Well, such was the case with WA GURU! as a dedicated Marathi theatre audience turned out, dressed in their best to enjoy the performance of their favourite star Dilip Prabhawalkar. And the enthusiastic gathering was rewarded handsomely by veteran Prabhawalkar and Atul Parchure's remarkable acting skills.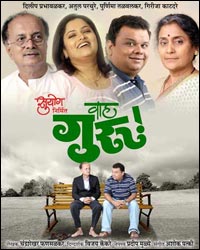 Adapted by Dr Phansalkar from Mitch Album's best-selling novel 'Tuesdays with Maurie', Wa Guru is the story of courage and optimism of a retired college professor, Sapre (Dilip Prabhawalkar) who is diagnosed with the terminal illness of the Motor Neuron Disease (MND), a debilitating condition which results in patient's loss of muscular control while the patient's mental faculties remain intact.

Afflicted by such a deadly malady, however, Professor Sapre decides to set aside self-pity and desperation and lead his last days happily. One of his past students, Vidyadhar Pai (Atul Parchure), now an ad agency chief happens to catch the professor's interview on television by chance. He longs to meet his old professor after 16 long years and he tracks him down to Sripur, a town 250 kilometres away from Mumbai. Embroiled in personal and professional complications, Pai finds succour in the wise words of his teacher.

Professor Sapre's simple slogans like "Prem kara nahi tar mara" (be in love or be dead) or "If in bed, you are dead" have a life-changing impact on Pai who is caught in the daily rat race. Pai makes his Thursday visits to the ailing professor his weekly ritual. He enjoys this tuition on the art of living thoroughly. His strained relationship with his long-time girl friend Janhavi begins to look up as does his professional life. Overcoming personal taboos, Pai finds himself opening up to his human shortcomings and inner feelings. He begins hugging heartily, laughing loudly and crying bitterly - as per the situation.

Meanwhile his Guru celebrates his own death anniversary to hear all the good things that people have to say about him, "the dead never get to hear all those good things," he reasons. Also he snatches moments of happiness by reminiscing his courting days with his wife, listening to the choicest ghazals of Begum Akhtar, eating all the spicy dishes and stealing a glance at a pretty face passing by! His final tuition also has some lessons for the audience in dealing with these tension-ridden, stressful times.

Dr Phansalkar's adaptation is lush with wit and poise, humour and dignity. A seemingly grim story that unfolds ever so playfully becomes absorbing due to its superb dialogue. A thoroughly entertaining tale that crackles with scintillating performances by Prabhawalkar and Parchure. Prabhawalkar's deft harmonica playing makes for a welcome and stunning inclusion in the play. Just shows the wide range of the veteran performer's prowess. Also it is nice to see Parchure playing a serious role for a change; he is effortless in his part. A word of praise is due to both the female actors - Purnima Talwalkar and Girija Katdare. Both are good singers as well as dignified performers.

Pradeep Mulye's sets change in accordance to the narrative and enhance the appeal of the play. Sheetal Talpade's lighting is effective in maintaining the flow of the show. Ashok Patki's music and insertion of musical pieces like Vasantrao Deshpande's Marwa, Kumar Gandharv's bhairavi and Begum Akhtar's - 'Aaj Jaane Ki Zid Na Karo...' are absolutely stunning. Director Vijay Kenkre weaves in a tight plot, not leaving any gaps for ennui to set in.

But in essence, Guru Sapre's pearls of wisdom mount to 'pop philosophy' - of here and now variety. To say that the play can have a life-changing effect - will be overstretching its merits. It is a wholesome commercial play with the right dose of drama, emotion and pop philosophy.

*Deepa Ranade is a film and theatre reviewer. She has been an entertainment journalist for over fifteen years.