Schedule
No upcoming shows.
AAJ JAANE KI ZIDD NAA KARO is Saumya Joshi's latest play. His earlier significant productions from Ahmedabad are DOST, CHHOKAS AHIN NAGAR VASTUN HATUN and AATHAMA TARANU AAKASH. Saumya Joshi got a break in the Gujarati commercial stage circuit in Mumbai with his plays WELCOME ZINDAGI and 102 NOT OUT. The productions from Mumbai have had more than 350 shows each and continue to be staged.

AAJ JAANE KI ZID NA KARO is however a deviation from his earlier plays that were set in the context of the family. This play revolves around two characters who are poles apart in their social order and psyche: one is a social outcast and the other is a pillar of the society. The woman is a prostitute (Jigna Vyas) and the man, a police officer (Jayesh More). They run into each other in a Mumbai local train. The prostitute is immediately identifiable by her garish getup, clothes and loud mannerisms while the police officer in his plain clothes is inconspicuous.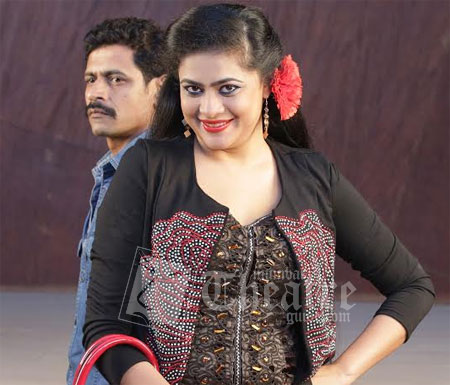 What follows between them are conversations, full of humor, surprises and unintended revelations. Their train journey is not merely a backdrop, but in fact depicts snapshots of their entire lives and goes on to alter their future. The end of the first act is dramatic. The second act opens on a sombre note.

The script is full of delicate nuances. The dialogues are sharp, short and simple without poetic embellishments and yet poignant and witty, with an undercurrent of melancholy. The play is based on Suresh Chikhle's original story that Saumya Joshi has adapted and dramatised. A Marathi play based on the same story titled PROPOSAL is also currently being staged in Mumbai. However the only common thread between PROPOSAL and AAJ JAANE KI ZID NA KARO are the two protagonists in a train compartment.

Saumya Joshi has independently shaped the events and the climax of his play in a unique way. The sound design is beautiful. Collaborating with Rahul Ranade on the music Saumya Joshi enlarges the scope of the emotions in the play. Right from the title song to the umbrella sequence with the song from the film 'Barasat Ki Raat', the music serves not just as a treat to the ears, but also portrays insights into both the characters: their childlike nature, as well as their attempt to seek out joys from the simple things in life. The music is a soothing balm to their otherwise chaotic, stressful and marginalised lives. Saumya Joshi has an uncanny gift of making mundane events magical, and that's how he has woven a thin story line into an exquisite emotional experience.

Jigna Vyas as the prostitute and Jayesh More as the Police Inspector have remarkable chemistry. Her vibrancy and his cool and calm demeanor provide a dramatic contrast and also highlight their strengths as accomplished actors. They are well supported by cameos from Saumya Joshi, Sandip Raval and Vipul Desai, making for brilliant team work.

The set by Pradeep Mule is effective, realistic and yet practical so as not to inhibit the actors. The play has been co-produced by Umesh Shukla and Manhar and Kajal Gadhia.Umesh Shukla has successfully produced Saumya Joshi's earlier plays in Mumbai while Kajal Gadhia and her father have shown keen interest and understanding of Saumya Joshi's work. They all deserve credit for staging this play which could still be seen as a risky venture on the commercial Gujarati stage given its theme and adult content. More power to brave hearts like them.

*Jyoti Vyas is a senior theatre and television person who has trained under Ebrahim Alkazi at the National School of Drama (NSD). She has written for publications such as 'The Asian Age' and the Prithvi Theatre Newsletter (PT Notes). She has also trained students in the Theatre, and is an important critical voice for Gujarati Theatre.