Schedule
No upcoming shows.
The crux of WAH GURU! is about what happens when we forget the joys of our work in pursuit of money and feel compelled to be in the rat race where pleasing people becomes more important than pleasing ourselves. Produced by VNV Productions and Neeraj Vora, WAH GURU! is a Gujarati adaptation of Girish Joshi's Marathi play FINAL DRAFT.

The premise revolves around a writer/professor (Neeraj Vora) and his student (Saee Barve) who has come from Bhuj to learn film writing. The professor feels that the student is not being able to keep pace with her peers in the classroom, and so he calls her home to guide her more efficiently. As they proceed with the sessions, both the professor and the student begin to explore each other's personal lives. The timid student, who happens to be a huge fan of the professor's writing, becomes a catalyst for the biggest realization the professor has ever had. The tables are turned and while the professor is the Guru literally, the student becomes the Guru figuratively.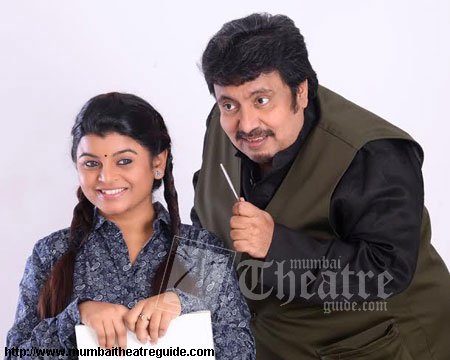 As the protagonist of the play is a writer himself, the play talks about characterisation, the premise, imagination, dramatic possibility and such other aspects. The play has the ability to keep the audience engaged and surprised. But yet the revelations don't hit you as much as they should. By the time you can react to the lines, the play has moved on. The play is unable to offer deeper moments of reflection. The lighter moments are alright. It is quite a relief that they are not overdone to keep the commercial circuit happy.

Neeraj Vora is a seasoned actor and as expected, does well in his part as the professor. Saee Barve gets the Bhuj tone right, and puts in an earnest performance. She has done a good job with the Gujarati translation of the play too. Director Sunil Shah keeps the blocking clean and simple. Uttank Vora's music is alright. But the music could be better operated. Sudden loud fade-ins sound very jerky. Bhautesh Vyas' light design is well done while Rajen Bhise hits the bull's eye with his design of a suburban home; the use of mineral water bottles (like you would expect to find in the house of a man with no family) adds to the authenticity of the production.

*Pratik Kothari has a Diploma in Acting from Barry John's acting studio. He has worked with theatre groups like Manoj Shah's Ideas Unlimited and Salim Arif's Essay Communications. He has also acted in films and is currently assistant director on Shyam Benegal's TV Series 'Samvidhan'.