Just a few weeks ago, the Porbandar police department released posters titled "Mahila Sashaktikaran" (Women's Empowerment) to mark the state government's women empowerment week, carrying messages advising women to dress appropriately before stepping out of the house, ignoring once again the actual issues that lead to crime against women. One wonders then whether we really have empowered our women and got them more freedom.

Ank's latest production KAAMIYA, although written by Kamla K Kapur in 1977, is therefore still relevant in many respects, and more nuanced than the usual, familiar litany about the indignities that women have to bear in a man's world. The play makes us aware of the complicated psychological and social boundaries that hold a woman back from taking charge of her own life in a world where patriarchy is deeply entrenched.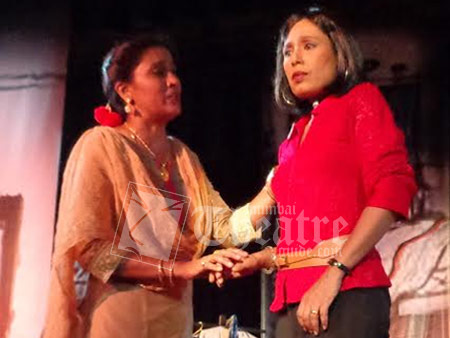 Kaamiya, the elder daughter of a middle-class Punjabi household, returns to her parents' home after ending her marriage with her husband Murli. She is greeted by her anxious mother's questions about why she left her husband, and Kaamiya says that she fell out of love. She enquires of her mother "Do you love father?" to which her mother responds by stating the number of years that they have been together and all the things she does to help him around the household. Kaamiya wonders if a couple's relationship accounted by the sheer passage of time is an expression of love. Or could it just be habit? Kaamiya ponders such philosophical questions.

In the meanwhile, her aunty Sarla, the divorced sister of her father holds on to her pride and dignity as she lives off the kindness of her brother and his wife, a fact that she is reminded of by her sister-in-law every few hours of the day. Aunty Sarla left her husband even though he had a stable job and a good income because he would drink too much and beat her; a fact that she has to reiterate even years after the separation happened every time the people around her take it upon themselves to bemoan her lonely spinsterhood. "Why do people think that a married woman can never get lonely?" she asks at one point, hinting at Kaamiya's mother who obsessively cleans the house in between the baths she keeps taking to calm her nerves.

Kaamiya's soft-spoken but stern father welcomes Kaamiya back home without demanding any answers. But as soon as he starts to learn of her new-found "unusual" ideas about having felt trapped in her supposedly functional marriage and desiring freedom even though she was given everything she thought she wanted, he makes it clear that if she is to live under his roof she must stop saying such things and risking his reputation in the community. As the man of the house, he has inherited the sense that he must protect the ever-endangered ghar ki izzat and that any exercise of truly autonomous thought and action by a woman is a direct threat to his god-given paternal authority.

In a tender scene, as his sister Sarla indulges herself in her lofty dreams of a cottage in the mountains with a lovely garden and servants to look after her in her old age, he asks whether he too will be granted a small room there for himself; a rare reflection on the pressures that patriarchy puts on men too.

The mysterious discomfort the parents feel at Kaamiya's questions uncovers an interesting layer in the play - the sense of a "more or less-ness" to the freedom the women enjoy, as all of them are allowed to be themselves and do what they want but only to the extent that it does not pose a challenge to the established order of the cookie-cutter mould of the 'happy married life'.

The play goes beyond the smokescreen of the vague idea of a woman's independence based on early conditioning and constant reaffirmation, which is in truth, a strictly defined pseudo-independence that can crumble at the slightest provocation. We also learn about Kamla, Kaamiya's sister, who has ended up in the asylum after she didn't pay heed to her father's childhood warning that women who have lovers go to hell. Kaamiya often reminisces about Kamla and ponders over her naive confusion at her urges and instincts going against what she had been conditioned since childhood to want from life.

The show runs smoothly, but Ram Gopal Bajaj's direction does not quite bring out all these subtle yet crucial undertones of the script. Where the script seems to demand silence, we are subjected to yelling. Where it seems to ask for gentle introspection, in its place we find broad, melodramatic soliloquies. Many of the lines in the Hindi translation, too, make it difficult to form a contemporary connect with the older script.

Preeta Mathur Thakur as Kaamiya manages to depict the graph of the titular character's external journey, but does not deliver the full range of her internal journey of self-evaluation. She could have taken a few more risks with her range of emotions. Laxmi Rawat as the spirited Aunty Sarla was successful in her sensitive embodiment of the middle-aged, single woman's urge to fight for respect and revolt for change, while at the same time finding it hard to go against the well-meaning condescension of her benefactors. Aman Gupta was without fault the sympathetic father and the struggling patriarch, but seemed a little out of his element in parts where his character uncovered its meaner, threatening side. The production impresses in the visual department with an inventive set and crisp light design.

*Saudamini Kalra is a student of theatre and occasionally a poet.