A title like THE BIG FAT CITY, the new play written and directed by Mahesh Dattani offers tantalising possibilities. This could have been an intelligently written and sharply performed play about Mumbai as an unreal, ruinous, glitzy destroyer of lives and relationships. At the start, against a backdrop of the city's skyline stretching right across the back of the stage, we are shown a couple who seem trapped inside the skeletal structure of a one bedroom apartment. They have defaulted on their monthly bank loan repayments for the flat after the husband Murli has been laid off. Murli is ravaged by feelings of declining self worth while his wife, threatened at the prospect of losing her home, becomes hard eyed and brittle. Scheming for survival, she arranges a dinner party with her husband's former college mate who she mistakenly believes is doing well and can help get them another loan. She ropes in a neighbour, a glamorous TV actress who has her own set of financial troubles and a drunken husband to deal with.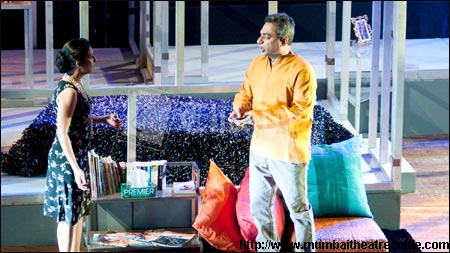 Setting the play up in this manner and even working within the imperatives of an entertaining big ticket play, Dattani could have chosen between several approaches and devices available to him as a playwright to write a quintessential city play. THE BIG FAT CITY might have been a play with elements of satire, a humanistic telling, a dark narrative or even a realist drama, to show us the hard edges and grim tragedies of those who live here with intelligence and humour.

But all of this would call for a degree of imaginative storytelling and finely drawn characters. Sadly, after the first few minutes the play acquires a tone familiar to anyone who has sat through a successful weekend production playing to large audiences with a sprinkling of well known stars. The tone is one of broad strokes entertainment and risible dialogues with no scope for reflection.

In THE BIG FAT CITY, the playwright was required to invest the play with tension, perhaps to craft an argument and also indicate his own sympathies expressed as subtly as possible. What we get instead are stock characters who overact amidst relentless attempts to inject low grade humour into the thinnest of material.

Watching the play at its premier at the NCPA's Tata Theatre, there seemed to be an unspoken agreement between Dattani and his audience, comprising mainly Mumbai's affluent and achieving classes. Spoilt by several years of similar unchallenging entertainment they seemed happy to sit back and laugh at inane jokes with an element of satisfaction at their own insularity from the financial troubles that afflict others. Later during the interval, talk tended to revolve around plans for dinner.

Downward spiral

After the TV star's husband is killed accidentally by the hot headed lover of the young paying guest living in Murli's flat (yes, the characters are as stock in trade as that) this becomes a cue for a general unravelling. Murli consistently overacts and his wife is allowed to wind down into a dreary portrait of an averagely greedy woman. The script becomes senseless, gathering speed and dying on itself not because it has set its sights too high but out of sheer banality. The young woman becomes particularly implausible as she appeals to a mysterious brother for help and proposes that they all write a film script to get them out of the mess.

But it gets worse. As the scenes roll on, it is as if a few labels have been engineered into the play. ''Moral policing angle to be used'', says one and so there is a reference to a police raid in a party next door. ''Ekta Kapoor to be mentioned'', goes another and so of course she is mentioned to highlight the despair of the TV star who needs to work. ''Pan Indian feel to be introduced through reference to Haryana khap panchayat'' is the next one, incredulously enough. The heavy handed embarrassingly blatant manipulation of plot reaches its crescendo with a breathlessly ridiculous tale of a brother from Haryana chasing down his sister Bhateri (that label went '' include a reference to the girl child's neglect in North India for good measure to add substance to the play'')

The brother from Haryana is shown strutting around and sitting with his feet on the sofa while delivering a little speech about Gurgaon extending to Riwari which sounds like an excerpt from a newspaper. This is exactly how a stilted urban dwelling person imagines anyone not living in a metropolis and the pact between the audience and the playwright is evident again.

There is a reference also to women who keep jumping off the roof with their children. Although this is uttered by a self centred TV actress in a moment of despair, and it comes as a throwaway line, it is about a spate of very real human tragedies that have taken place in Mumbai recently, and therefore its inclusion is in bad taste.

It ought to be easy to just ignore plays like THE BIG FAT CITY but the regular supply and ''success'' of such fare has far reaching consequences for theatre in general and its wider ecosystem. This is especially so in a city where theatre by and large is an unaided activity and has to fight off inducements and commercial pressures which try to make it conform to a notion of banal theatre. Besides, a preference for entertainment is not as innocent as it looks. Isn't a culture that cannot seem to have enough of reductive entertainment actually using collective pressure to ensure that inconvenient issues don't get critiqued? This is an efficient way of keeping social and political comment out of theatre and over time also succeeds in distorting the tastes and expectations of its audiences as well. Sadly, while there is a clear entertainment and a sharp business model at work in THE BIG FAT CITY, there was little else in an otherwise excruciating evening at the theatre.

Devina Dutt is a Mumbai based arts writer who writes regularly for The Hindu.