Direction : Meera Khurana
Cast : Hidaayat Sami, Aseem Hattangady, Dilshad Edibam, Akash Khurana and Tahira Nath


Rebecca play review
---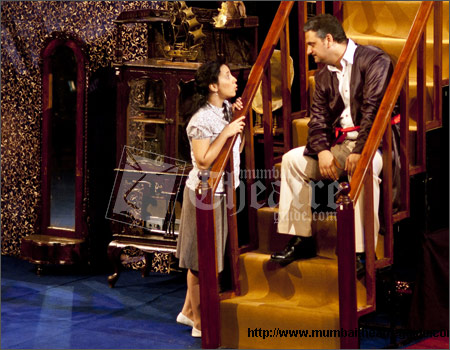 Daphne Du Maurier's Rebecca, a 1938 acclaimed English novel likened to Charlotte Bronte's Jane Eyre has been adapted to the stage at different times, and sometimes with success. But when Alfred Hitchcock turned it into a film in 1940, the book gained cult status, especially for the dead and hollow character of Mrs Danvers. The story offers an insight into life in the post-Victorian era, and is immortal for its hidden secrets and psychological play.

In Akvarious' staged version, directed by Meera Khurana, we see quite an elaborate set with stairs leading up to a railing, a large window and a kitchenette below, in the centre of the banister that the servants find convenient to overhear their masters. This is to be our pictorial representation of Manderley, big in imagination, but small and suffocating to look at. This is the mansion haunted by the presence of the late Rebecca de Winter.

The new Mrs de Winter, quite clueless, plain and lacking in self-confidence spends most of her time trying to enquire about her husband's glamorous first wife. She has an adversary in Mrs Danvers- the maid, who is undyingly devoted to her former mistress, sabotaging her new mistress' step all the way. Her husband Max wants to bury his past but his new wife thinks that he is still in love with his dead wife. But she soon finds the truth about Rebecca's 'accidental' death, and the secrets hidden so well in sprawling Manderley.

REBECCA is a haunting tale filled with mystery, suspense and an eerie climax that has to this day captured imagination the world over. In Akvarious' production, the language, unedited to the actors' comfort was winding, long and sounded quite forced and unnatural in an Indian accent. Perhaps if they had shortened some of the lines or eased out the long sentences, there might have been fewer fumbles.

Dilshad Edibam seen so far in smaller roles in other Akvarious productions takes centre stage as the second Mrs de Winter and does well. She looks her part -- young, naÔve and quite plain to look at, yet earnest in her insecurities that have been sparked by a woman she's never even met. But as an actor she falls short. Her voice is unable to reach the far corners of the auditorium, and she clearly needs to work on her pitch. Indeed, she lost quite a few of her audience members after "Last night I dreamt I went to Manderley again..."

Hidaayat Sami plays Max de Winter and manages to sprinkle some humour into the role of the widower with his good timing. Comic relief is something you miss in the story after a while, owing to its serious nature. The supporting cast also works well with the likes of Aseem Hattangady as Frank Crawley and Akash Khurana who plays the role of the eccentric boat keeper, Ben.

Aseem Hattangady has also acted in Manav Kaul's recent Hindi play, MUMTAZ BHAI PATANG WALE, and was very good. It seems he does just as well in an English production. The veteran actor Akash Khurana moves in and out of the scene surreptitiously, and gives the whole scene an eerie yet comic twist. Virtually unrecognisable in his get up as the unkempt Ben, he brings a personality to the character he plays.

Tahira Nath who plays Mrs Danvers, overdoes the clinically insane maid routine and comes across as awkward, and even comical at times. Meera Khurana's portrayal of this classic is engaging but loses out on the nuances of its original. What ultimately does well for this production is perhaps its timeless story.

*Afsha Khan is a Mumbai based writer and blogger.