Schedule
No upcoming shows.
It is indeed very courageous of the producers - Sanjay Goradia and Kaustubh Trivedi to back a production like MAN MALE TYA MELO and to put it on the Gujarati stage where cliched sms jokes are now almost imperative.

MAN MALE TYA MELO is adapted from the Marathi play SUKHANSHI BHANDTO AMI written by Abhiram Bhadkamkar. The story revolves around a schizophrenic - Kanji Barot (Manoj Joshi) who lands up at Dr Sharad Kothari's (Kamlesh Mota) dispensary. Kanji Barot is ex- professor of Agriculture in a Government-run college and a very devoted teacher. Unfortunate circumstances leave him with no option but to poison his family and even more unfortunately, he fails an attempt at suicide. The doctor on the other hand is an elite individual who conveniently manipulates situations and ideals for material pleasure, albeit for the good of his family.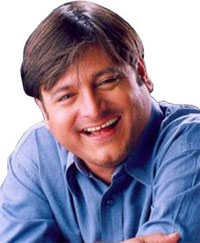 In the quest of achieving milestones, human beings can complicate their lives and minds. Danger hovers when the ideals are twisted and turned around to seize the smallest of opportunities. Our lives are complex and to bring the complexity onto the stage can be quite a task. In such a situation if even one thing doesn't fall into place one would start analysing. Also, when one addresses a social issue, there is always the danger that it can turn into a boring lecture. But Prakash Kapadia's witty writing ensures that the audiences are engaged always, and the play successfully communicates. There is seldom a dull or a loose moment and some lines refreshingly pack in a punch.

There have been instances of a character whose philosophy is in total opposition to his public image. A classic example of such characterisation would be Munnabhai from the eponymous and well-known Hindi film. Though the film and the play are very different, Kanji Barot in his own right is another such characterization. Isn't it fascinating that the psyche of a psychiatrist is turned around by a schizophrenic patient? This entire premise and its execution is crafted very convincingly. The play encompasses a plethora of human emotions while the film is just another one-dimensional comedy.

Aditi Kothari (Kumkum Das), Akshay Kothari (Yatin) are adequately detailed and the actors do justice to their respective characters. Bhartiben (Charu Joshi) is brilliant with her 'Mehsana' accent while starlet Roma (Disha Savla Upadhayay) is effectively humorous in her lonely, attention seeking part. All these characters make their own personal journey which adds some new dimension to the basic premise. Theatre as against cinema is more dependent on the spoken word. Manoj Joshi with his portrayal of Kanji Barot breaks this barrier and with mere words creates disturbing images. It is always a challenge to act in a play and direct it at the same time. Kamlesh Mota excels in both. Kamlesh Mota has also used his light design very effectively to underline the mood of the play. Rahul Ranade's music is in sync with the play. Rajan Bhinse's set design is a mixed bag. The color, texture and the propping up of an elite home is classy and adequate but the doctor's dispensary could have been done with more imagination.

This is one production which everyone including the team and the audience should be proud of. It is a positive leap forward on the Gujarati stage and one hopes that productions like these will open up a multitude of other relevant themes.

*Pratik Kothari has a Diploma in Acting from Barry John's acting studio. He has worked with theatre groups like Manoj Shah's Ideas Unlimited and Salim Arif's Essay Communications. He has also acted in films and is currently assistant director on Shyam Benegal's TV Series 'Samvidhan'.