It is unusual to find Greek tragedies played by adolescents in their early to mid-teens. Yet often times the central characters in these epic sagas are young, strong-minded individuals determined it appears to go down a calamitous path. This is their tragic flaw. Antigone is one such character. She is generally regarded as a young girl, perhaps no more than fifteen years of age, and is likely to be younger too given the social context of the time when Sophocles wrote the play and her titular character (c. 441 BC).

Greek tragedies rooted in Greek mythology with their larger than life men and women following their moral compass, not only became the template of Western drama, but also are timeless, and have inspired adaptations and retellings over many centuries. So is the case with ANTIGONE 2.0, drawn from its original text, and Jean Anouilh's politically trenchant 1944 version in the backdrop of the French Resistance during the Nazi occupation.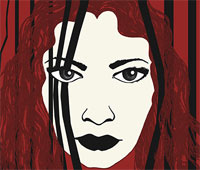 The Web inspired production by Apeksha Harsh and Gerish Khemani (who has also directed the play) is a compact piece in which the Greek chorus has been substituted for the media, which extends to social media, befitting the 2.0 platform on which one girl's will and its repercussions play out. It is entirely acted out by young people in the age group of 13 to 17 years, with live music to boot. The guitarist Aryan Easwaran is 17. His electronic guitar intervenes the scenes with a surprising sophistication. The original music has subtlety that perfectly underscores the minimalist style of the play.

The early skepticism that I had of this turning into an elocution-styled drama was soon set aside. As the young actors warmed into their parts, I was charmed by their clarity and conviction. Khemani's mise en scène and interpretation of the text are commendable, as is his ability to mould the young actors in their delivery. It helps to a great extent that there is an element of simplicity and restraint to the production, which has been purposeful. As a result, the young actors are not parading but have made a sincere attempt towards some internalisation of the characters they play. They also seem to have learnt to play more than one character with little fuss, not to mention the other tiny yet significant details that are enhancing their presence and the narrative they seek to portray.

Do watch this production for the worthy initiative of its keen cast: Asfiyah Qadri, Ira Sharma, Simran Subramaniam, Siya Chandrie, Kush Shah, Zayan Dholoo and for the collective effort of its team. Perhaps the most praiseworthy outcome of this endeavour is that its young cast has reflected on a pertinent and contemporary take on the Individual vs. the State in their natural playground of social media. That's quite an achievement in itself. Finally, credit for this enterprise is due to The Pomegranate Workshop, a Mumbai-based arts education company and to Priya Shrinivasan and team. It requires sensitivity and vision to see projects like these through.

*Deepa Punjani is the editor of this website.