Direction : Gerish Khemani
Cast : Ira Sharma, Zayan Dholoo, Kush Shah, Jonina Fernandes, Theon Langrana


ANTIGONE 24X7 Play Review
---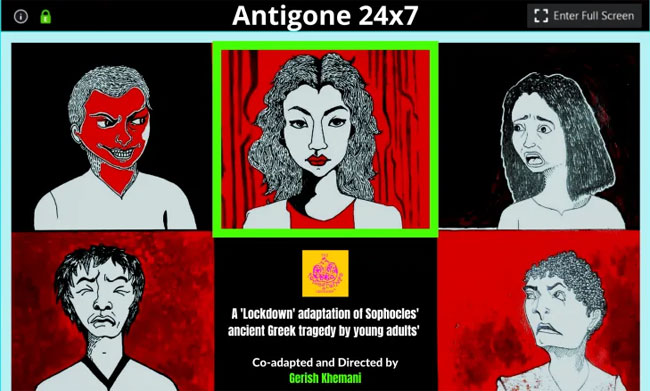 A play reimagined by young adult actors and co-writers this lockdown adaptation of Sophocles's Greek tragedy, ANTIGONE, co-adapted (Gerish Khemani, Kush Sha, Ira Sharma, Zayan Dholoo) and directed by Gerish Khemani is a truncated drama that selects its excerpts depending on its relevance to contemporary times.

There have been numerous adaptations of ANTIGONE over the years and this one is just one more in a plethora of ancient Greek tragedy offerings. ANTIGONE is a tragedy written by Sophocles in the year 441 BCE, about the aftermath of a civil war in which the two sons of Oedipus-- Eteocles and Polyneice-- fight and kill each other, following which the new King (their successor), Creon, as a punishment for Polyneices disloyalty, orders that he not be buried in the traditional way. Essentially, ANTIGONE is about civil disobedience and the heavy price one has to pay for having the courage to stand up and be counted as a dissenter. Both romance and filial love take a beating here and therein lies the tragedy. The themes of ANTIGONE could have stirring contemporary import if presented in its entirety but this co-adaptation is just a truncated, interesting, though uninspiring version of a great work.

Khemani's co-adaptation presented viz the virtual Zoom webcast has the principle cast extolling forth from their respective private rooms. The play begins with a preamble (which this reviewer missed due to a technical glitch in the first show), but the audience unfamiliar with the Greek play could also read up on the story in order to get acquainted with the characters and their motivations. The spare setup with Sophocles's poetic language (coming at you in disjointed threads), fairly interesting background music by Aaryan Easwaran and sincere performance might well be misconstrued as analogous to what transpired in Greece way back in 500 BC where theatre was presented in simple, innovatively distinguished profundity. The socio-political-religious contours are rather muted even as class, hierarchical power structures and status gain ascendancy. Fate is the great leveller here as the monarch (King Creon essayed by Zayan Dholoo) who tries to imprint his wishes on Thebes ends up falling foul of his own machinations. While the Young Adults (16-19 years) at the helm try to reimagine the drama in contemporary terms they fail to make it stick. There doesn't appear to be much thought in the realigning of characters in contemporary terms and omissions and commissions in that respect appears more confusing than illuminating.

The medium experimented with here, doesn't allow for a smooth flow of ideas and the emotions get lost in the distancing mechanics incorporated. For the audience, there's not much of a connect to be had, other than rather vague references that bear similarities to contemporary issues - which, if presented in a forceful and cogent manner might have had a far more potent affect. Antigone (Ira Sharma), Haemon (Kush Shah), Creon's story might have made much more sense if the context was set-up in a preamble rather than leaving it for a post-performance discussion. The timing of the presentation was no doubt opportune given that it comes in the wake of undemocratic dictates' like the debilitating demonetisation, CAA, NRC and the cruel lockdown. Despite the earnest performances by the able young adult cast, the co-adaptation and minimal effects leaves a lot to be desired.

*Johnson Thomas is an independent critic and columnist.