Direction : Viraf Sarkari


BALLE BALLE Play Review
---
Schedule
No upcoming shows.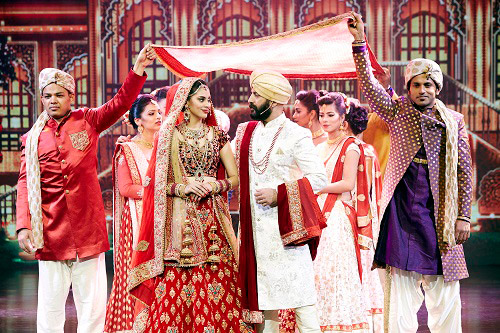 The Great Indian wedding is what Bollywood has done to death over the decades, and successfully so - whether it is the Barjatyas or Yashraj or anyone who wants to smash into the gaudily aspirational 100 Crore club. There is art in commerce one may blandly argue. Art can meander inside these firmly established first principles of economics but is not the prime mover. BALLE BALLE is unabashed in this belief.

A garishly lit up electronic backdrop gleams against a wooden stage. It's a new-age set design, where one can whistle up any imagery without lights going off and without the muffled footsteps of helpers scurrying across the stage to change the set. Complete with a state-of-the art ear splitting sound system that could do well in a tony lounge bar, we are invited to attend this farcical wedding jamboree which overflows with all the relevant emotions that conjure up the excessiveness of a plump, honey-glazed and ready to serve Punjabi Indian wedding turkey.

Nisha loves Nikhil, who is not just any wedding planner amongst the myriad hollering from the streets of Delhi, but has a respectable wedding App and is just waiting for the first round of PE investment. But Nisha cannot marry before her elder sister Isha has wed. And so in comes Swag, the hip dude from Canada, accompanied by his new-fangled Dadi, divorced Mom and Honey Aunty, a cougar in hot pants. They want to see their Swag well settled. After the usual stock humour that serves these stock characters up our gaping mouths perfectly, Swag and family come to Patiala to the fearsome Dilawar Singh aka Papaji's massive haveli for an alliance with Isha. Papaji is a widower and suffers from OCD or 'Obsessive Control over Daughters'. He marches around the stage to the thundering stereophonic enhanced sounds of boot steps followed by his stiff upper-lipped brother Colonel Tutu, both accompanied by a comically menacing background score. Conveniently and to the un-surprise and anticipatory glee of the audience, Nisha opens the massive doors to the haveli and a predictable comedy of errors ensues.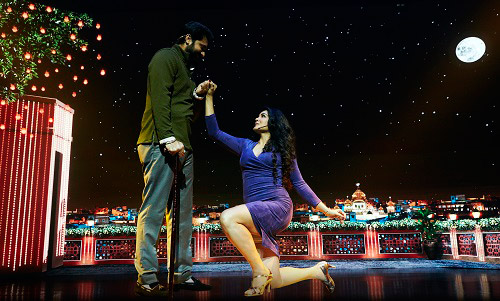 How wrong can you go when the select foot-tapping numbers are already big hits from films both Indian and Western? The production values are impressive and the backing of Wizcraft is clearly visible in the glamour and glitz of the ostentatious sets, costumes and choreography, copy-pasted out of any of the many big budget musicals. The singing is live. The lead actors playing Nikhil and Swag sing fairly well and their singing is enhanced by the quality of the electronics. The other actors try hard to sing and the bravado of the script complimented by some of the zippiest film music score drowns out the lack of singing talent which one would have otherwise found annoying.

BALLE BALLE is a lot of dopamine and one will 'feel good' being part of this musical extravaganza. It does not profess to break new ground or attempt to invoke art. It is not theatre as much as a mule is not a donkey or a horse, lying somewhere in between. Attend with family. Bring your children if you want to give them a steroid dose of Bollywood. In these times of art and myth creating so much furore with our overly sensitive sense of honour and shame, it is perhaps safe to stay within the realm of the commonplace and the prosaic.

*Anil D'Souza enjoys commenting on drama and its versatility in mirroring our lives.







Schedule