Direction :
Starring :
Manav Kaul
Sudhir Pande, Kumud Mishra, Lalit Sathe, Divya Mohan, Sonal

---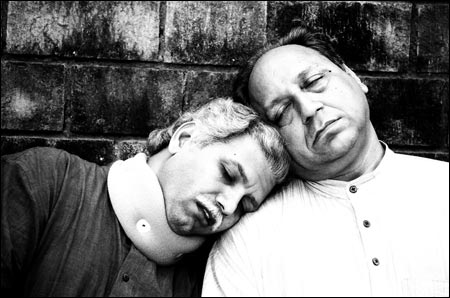 Manav Kaul's BALI AUR SHAMBHU is one of those plays that appeal to the senses but not to the intellect. You can be assured of a very pleasant evening at the theatre when you watch it but there is not much to chew on after that. Having said that, there is no doubt that the play derives its strength from the writer's craft and the actors' histrionics.

BALI AUR SHAMBHU is playwright Kaul's third play. As against his first two plays, which were prominent for the internal monologue that the characters undergo and voice, this one is fairly straightforward in its largely dialogic form. There is a defined story, which is peppered with just the right mix of ingredients that range from pathos to humour.

While the characters of Bali and Shambhu, two old men may be excused from being labeled as stereotypes, they nevertheless succumb to the prototypical conflict depicted by varying forms of popular media between two old people. The result therefore is a stimulus that is bound to trigger familiar responses.

So it happens that cantankerous Shambhu (Sudhir Pandey) has to come around to accommodate the gregarious Bali (Kumud Mishra). Shambhu is at first averse to having Bali share his room, which is in an old age home but eventually warms up to him. The crux of Shambhu's intolerance and anger lie in his traumatized memory of his daughter Titli (Divya Mohan). The ghost of his daughter's lover Shubhankar (Gopal Tiwari) continues to haunt him. Bali on the other hand is forced to take refuge in the home because his family doesn't want him with them.

The plot is strongly reminiscent of a Hindi film of the parallel kind. An overdose of emotion that seeks no reason propels the story at every stage but thankfully it does not become excessively sentimental or maudlin. To its credit the script is also tight with no loose ends. Even as the characters step out of the story for a few moments to explain themselves better, it all neatly appears as part of the plot. The final scene feels like a deja- vu but endears because of its ironic nature.

To add more drama to Shambhu's frame of mind, Kaul offers us a fairy-like vision of his daughter Titli who at different times is accompanied by a set of girls. These girls alternate between playing members of her dance troupe and as vicious witches who hound Shambhu with Shubhankar's memory. This fairy-tale element gets reinforced throughout the script, the name 'Titli' alone notwithstanding. And herein perhaps lies Kaul's strength as a writer.

He is able to take on a certain aspect and weave it in with the plot consistently. That aspect becomes like a recurring motif and not only does it aid the plot but it also helps in developing the characters' personalities. This technique is also evident of other instances in the same play. It touches us when Bali reveals the reason for being afraid of corners and walls in a room and his stubborn need to be in the centre. Shambhu's unsuccessful attempts at pushing Bali's cot to his side of the wall are transformed into a metaphor that has a resonance.

Similarly Bali continues to lure and humour Shambhu with tales of a Mr. Harishankar Tiwari from his childhood days. Much of the exchange between the two characters comes to the fore because of this Mr. Tiwari. It must be said here that Kaul also builds on his characters quite deftly. They are well rounded and have individual traits that you slowly start relating to. The characters of Doctor Jhilmil (Sonal Jha) and Gautam (Lalit Sathe) who look after Shambhu and Bali are a case in point.

Pandey's Shambhu and Mishra's Bali are well steeped in their respective roles. Mishra is an out and out talent. In spite of being in his thirties, he convincingly plays Bali who could well be taken to be in his late fifties or early sixties. The comic timing of the two actors is impeccable and the resultant humour is more often an outcome of small gestures and movements. Lalit Sathe who plays Gautam makes his debut on the stage with this play. Although he has a small role to play, he surprises us with the ease that he brings to his part.

The stage design is kept simple with two cots in the foreground. The dance movements as necessitated by the script are made effective with appropriate lighting and music. An entire song on Shubhankar may come across as being a little excessive but can be given a passing nod for not being out of place. Direction by Kaul himself also calls for a round of applause. Attention is paid to small details like the time when some characters put on the appropriate gear which is indicative of the cold weather that the location of the old-age home could be experiencing.

After the show I could not help but think that were this play to be taken up by some producer from the Gujarati commercial theatre circuit, it would perhaps do quite well. Not only the sentiments and humour expressed in the story will go down well with the Gujarati audience but importantly, it will be more meaningful and stimulating than its crass counterparts. A recycled box set may replace the sparseness of the current production and the producer in question may well initiate a series of subtractions and additions but it could well be worth it. So Mr. Kaul if such a thing happens at all, make sure that you quote a nice and healthy royalty!