Schedule
No upcoming shows.
Ananth Mahadevan is Don, the LIC agent, whose claim to fame is selling 101 policies in a year, but that was once upon a time. Now retired, he proudly wears this accomplishment on his sleeve, which is why the moniker has long replaced his rather long and convoluted South Indian name. Those days of glory have faded away and Don desperately needs to sell his ancestral house which overlooks a cliff hanging Sunset Point in Darjeeling. The only trouble is that Sunset Point is now ''Suicide Point'', hence there are no takers for the old run-down house. Don has overstayed his welcome at the LIC housing quarters in Mumbai and he needs the money, if only to buy his petulant daughter Aastha, played by Bhavna Pani, and himself a dwelling in the bustling metro.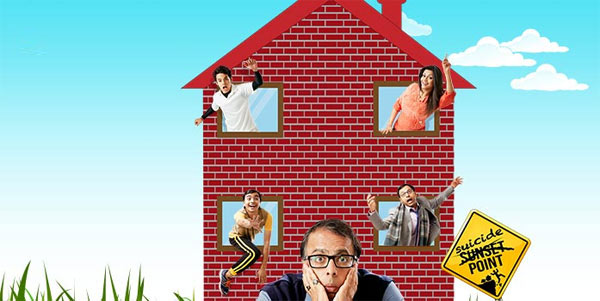 Don also enjoys interfering in Aastha's marital prospects often deciding who she should be seeing and who not. These typical and oft portrayed 'concerned Dad' antics are designed to bring in humour except that we have moved on from the old days of such intrusions. Don is also a do-gooder, rescuing suicidal sorts, who he grabs off the cliffy edge and offers them a place to stay while reconsidering life and its selling points. Lakhpa, played by Neel Gagdani, a self-serving young man, now employed as Don's house-help, is one such salvaged soul. Darsheel Safary's Rikhav is a young lad with similar intentions. With a cricket career that looks ready to be nipped in the bud, Rikhav sees salvation at Suicide Point.

Between rescuing Rikhav, opinionating on Aastha's limited love prospects, and Lakhpa's shenanigans, arrives a probable buyer, Mr Ghosh, energetically played by Joy Sengputa. He appears as the providential life-saviour. From the audience's point of view, Joy does save the drama on stage with his superb comic timing. Now Suicide Point needs to be explained through a rather flexible purchase price point, considering that Mrs. Ghosh is quite suicidal. Perhaps a lower price will act as a suitable deterrent. Or perhaps, at the right price, a potential suicide will be worth the risk associated with Mrs Ghosh taking a plunge anytime in the future.

The contemporary and celebrated names on stage are an exciting draw to the audience. But CAN I HELP YOU? does not help much. The plot is predictable with stock characters. One expects an actor of Ananth Mahadevan's calibre to explore dark humour in suicide or with some psychological depth. Darsheel runs away with his lines in a tearing hurry. The jokes rely on caricaturised Bengali and Sherpa accents. This is a let-down considering the quality of talent that appears unharnessed in both the script and the overall performances.

*Anil D'Souza enjoys commenting on drama and its versatility in mirroring our lives.