---
Ayushi Shah





Direction : Prerna Chawla, Shikha Talsania
Writer : Dilshad Edibam Khurana, Tahira Nath
Cast : Ahlam Khan Karachiwala, Astha Arora, Dilshad Edibam Khurana, Mithila Palkar, Tahira Nath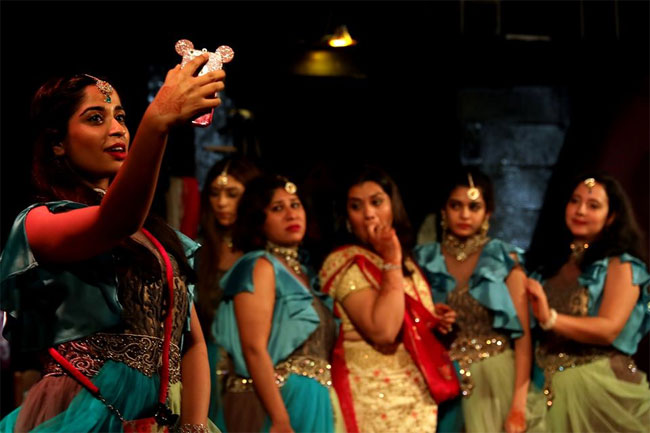 Cheeky and endearing in equal measure, DEKH BEHEN, is a taste of the big, fat Indian wedding in all its glitz, glamour and controversy. The story begins with a girl-gang meeting after a long time for a wedding at a farmhouse in Delhi. While the personalities of these girls drastically range, they have one thing in common - they all dislike the bride. Set in a single room, the play flutters between the past and the present to slowly uncover long-standing misunderstandings between them with levity.

The plot is sprinkled with relatable scenarios like the ongoing sangeet dance practice on a cringy number, heartbreaks, and family gossip. It is also a tried and tested plot. Barring a few scenes, the play is well written, and the jokes seem to work. The direction keeps you gripped as the writers slowly connect the dots and the secrets.

It can be tricky to have the entire play unfold in a single setting, but this cast makes it work in their favor. As the plot progresses, the women beautifully explore the complex themes of marriage, affairs, sisterhood and friendships that have spanned across years.

Despite her best intentions, Dilshad's work as a co-writer along with Tahira Nath Krishnan emerges more solidly than her performance. The multi-layered female characters are fleshed out to go beyond the cliched realms of virgin and vamp. The cast gracefully complements this writing as they smoke, laugh, cry and complain about their matching bridesmaid outfits. Moreover, Shikha Talsania stands out with her impeccable comic timing.

The all-women show of DEKH BEHEN takes you on a lively journey that finally ends on a bittersweet note. The theme is dated and overdone, but it still seems to be attractive. Before you book tickets, take note that the play is for 18+ years only.

*Ayushi Shah has a Bachelors Degree in Mass Media with a Major in Journalism. She has worked in various media and in public relations. She enjoys theatre and has acted in and directed inter-college festival plays.



| | |
| --- | --- |
| | DEKH BEHEN Play Schedule(s) |
No upcoming shows.